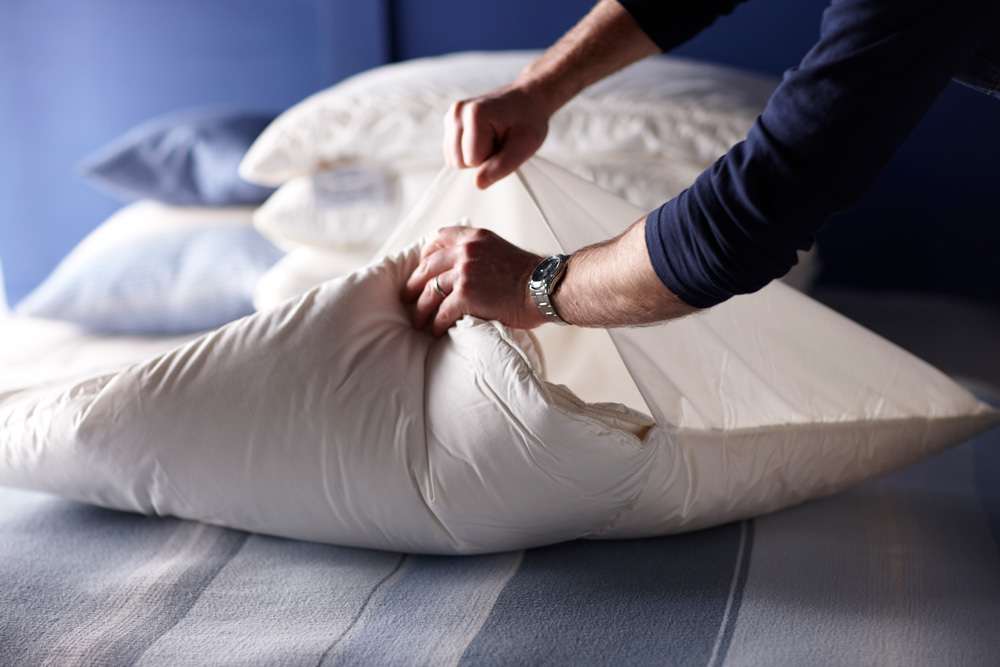 Keeping bedding clean and hygienic is very important – and especially when it comes to pillows, which have contact with our heads and faces every night.
This is where our unique, patented folding wool pillows come in!  Wool is a wonderful natural fibre that is breathable and heat regulating, transferring heat and moisture away from your skin. This creates a less susceptible environment for the development of micro-bacteria, making your pillow more hygienic. It is also dust mite resistant, making it an excellent choice for those needing a pillow to ease the symptoms of allergies and asthma in order to get a more restful night's sleep.
We only ever use certified 100% British wool to fill our folding pillows. Our wool comes from British farmers who have the highest standards of animal husbandry, with the sheep only being shorn in Spring and Summer, the times when they would naturally need to be relieved of their wool. The wool is then milled in British mills - cleaned without the use of bleaches or chemicals, meaning that only what nature intended is close to your face. The wool is needled into super soft sheets, then encased by us in 100% natural cotton, before being individually handcrafted into pillows by our expert seamstresses in our Devon workshops.
We produce several options in our wool filled folding pillows; 2-fold, 3-fold and 4-fold. Each pillow is made out of sections that fold over on each other to create a pillow that is perfect just for you! You can discover more about how this works by watching the video on our website.
Another reason that our folding wool pillows are so hygienic is that they are very easy to clean. For a refresh, just take your pillow out of its pillowcase, unfold and hang out to air when you change your bedlinen. You can do this between bedlinen changes if you wish. If you want a deeper clean, then unfold your pillow and machine wash on a wool cycle, using a wool care detergent. Then just hang up to air dry, rather than tumble drying. Do not dry clean as this will leave chemical residues on your beautiful wool pillow.
While we're on the subject of hygiene we'd just like to mention that our wool duvets are handcrafted, easy to clean and hygienic too! They can also be hung up to refresh or washed on a wool care cycle in your washing machine and hung up to air dry.
If you buy any of our pillows or duvets then we'll give you 50% off our luxuriously soft 100% natural Pima cotton bedlinen to go with them.