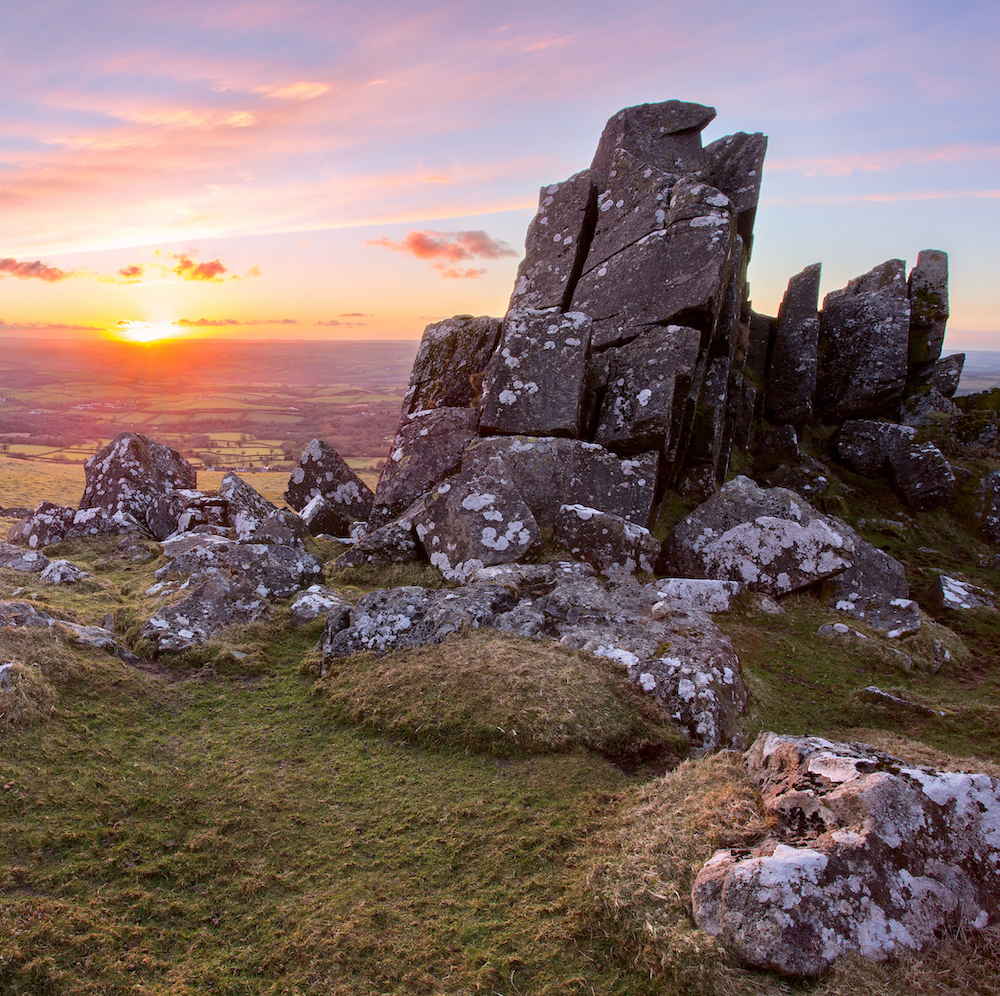 We know that not all of you who read our blogs are signed up to our newsletters, so we thought we'd share it here. Our newsletters are a mix of our latest news, behind the scenes insights, details about new products, as well as any members-only competitions.
Autumn is definitely here! On Dartmoor, very close to where we are based - and where Devon Duvets was founded - the colours are simply glorious. The trees have turned gold and orange and the bracken (also turning orange) stands out against the, still vibrant, green grass on the tors. In the early morning, pockets of mist hover in the valleys and there is a distinct chill in the air.
This is the time of year for changing to a warmer tog duvet, to make us feel cosy and comfortable at night, and we've received an unprecedented number of customers who have been busy ordering their warmer duvets. It's also been wonderful to be able to work closely with the British Wool organisation, who represent British farmers, in order to keep a steady flow of wool coming into our workshops for turning into duvets, toppers and pillows!
ONE…TWO…THREE!
The good old days of duvet hogging - because one of you prefers to be toasty warm whilst the other likes a nice cool bed - are over! It's goodbye to leaving your partner shivering in the cold because your 'night sweats' have made you throw off the duvet (and put it back on again) at regular intervals through the night. 
With 'Three', the patented duvet combination from Devon Duvets, the UK's famous manufacturer of handcrafted bedding, it really is as simple as one…two…THREE!
Devon Duvets have come up with a way to marry up any combination of duvet sections, in terms of weight or filling. Step One is for you to choose a duvet section with your preferred filling and tog equivalent. Step Two is for your partner to choose theirs. Step Three is to join two duvets sections seamlessly together as one big duvet inside a duvet cover. Now each of you has the perfect duvet that's been handcrafted just for you, but you can still share one big duvet! Find out more
SILK
Silk has been made for thousands of years and was once considered so luxurious that it was exclusively used to make clothes for the rulers of China and their high-ranking nobles. A beautiful 100% natural fibre that feels wonderful, is breathable and temperature regulating, it made sense for us to add it to our range of other natural products.
We've chosen a sustainable type of Mulberry silk for our duvets. When Mulberry silk is woven into fabric for high quality garments, the fabric has to be cut to standard widths. Rather than throwing away (and therefore wasting) the remaining silk fibres, they are 'teased out' and needled to create a beautifully soft filling for our duvets. Our silk is washed without using chemicals or bleaches, so is eco-friendly and safe. Each of our Mulberry silk duvets is individually handcrafted by our brilliant seamstresses, with the 100% Mulberry silk fibre filling encased in 260 thread count 100% natural cotton to create a soft, cloud-like duvet. You can find more details on our website.
PAULINE'S BLOG
When our founders Dick and Pauline left their busy international careers, moving to Devon with their two children and founding Devon Duvets, Pauline's love of 'all things natural' became the central focus of her new life, and is the heart, soul and ethos of the company. Setting up and running Devon Duvets with Dick – and a steadily growing team – has been a labour of love over the past 10 years but she felt she had even more experiences and ideas, along with her passion for creativity, to share with others. This year she has started her very own blog, called Cherish Nature, inviting you to join her on the journey and welcoming the opportunity for feedback and sharing.
TOP FIVE AUTUMN TREATS
Halloween Toffee Apples – tasty treats that are easy to make. We've found a great recipe that will add a bit of extra sparkle to Halloween!
Scented Candles from Lyn Candles in Devon – gorgeous handcrafted candles with a choice of soothing aromas.
Hot Chocolate – we like the Aztec style Chilli Drinking Chocolate from the South Devon Chilli Farm – warming (for two reasons!) as well as being rich and smooth enough to satisfy the craving of any chocoholic!
Pumpkin Carving – great to do with the kids! Pumpkins will be readily available at all major supermarkets this month, so get carving. You can find a few ideas here – and the insides can be used to make pumpkin pie.
Last - by no means least - Snuggle Up in a Devon Duvets certified 100% British wool duvet! A slice of sleep heaven right there…
If you have any queries or would like to know more about our products, then do get in touch. We'll be happy to help.