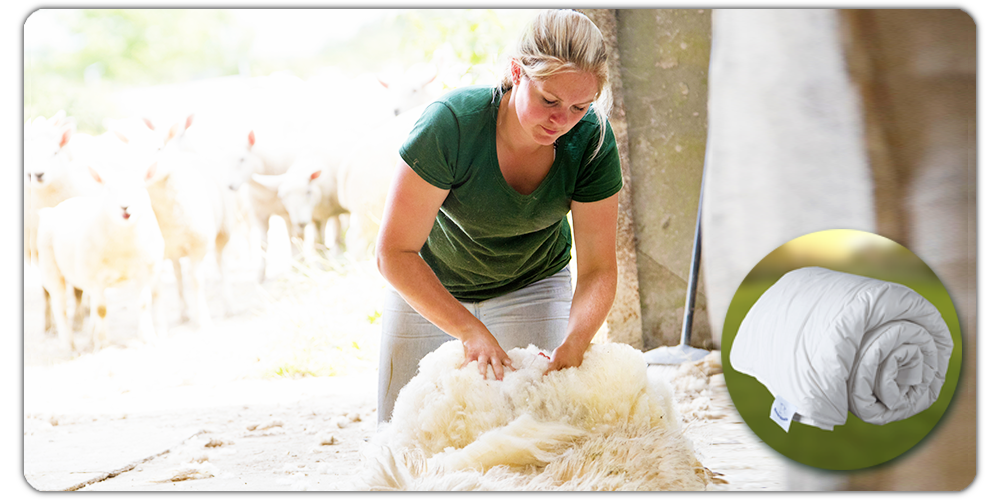 More and more of us are discovering the benefits of bedding made from 100% natural and sustainable products – and this is especially so when it comes to wool. It's breathable and temperature regulating, so can help us to keep our core body temperature balanced as we sleep. It's also resistant to dust mites and the build-up of micro bacteria, so is hypoallergenic and more hygienic. It is also naturally fire retardant. Wool is better for the environment too, because it is sustainable and environmentally friendly and so won't sit in landfill for decades when the times comes to replace it. It biodegrades quickly and releases essential nutrients whilst it does so. You can even compost it and use it in your own garden!
This all adds up to make wool a perfect filling for duvets, pillows and toppers! However, before you buy, how do you decide what makes the best wool bedding product? There are lots of factors you might want to consider, so we've put a few pointers below:
Where is the wool from? Wool comes from many countries, such as Australia, New Zealand, China, Russia, Argentina and, of course, the UK. If you want to choose bedding that's made from 100% British wool, then you need to look for the British Wool 'crook mark' logo on the product pages of the websites you are browsing. The British Wool organisation represents over 35,000 British farmers, helping to collect, grade, market and sell their wool. By buying wool from British flocks, you are helping our farmers, boosting agriculture, and supporting local economies. At Devon Duvets we only ever use fully traceable 100% British wool that has been certified by the British Wool organisation.
Is the wool traceable and responsibly sourced? The standards for sheep welfare vary enormously around the world, so it's only natural that you would want your wool bedding to be made from wool where the sheep are treated well and looked after. British sheep are amongst the best cared for in the world because British farmers are acknowledged to have high standards of animal husbandry. This is closely monitored by DEFRA, who also liaise with the British Wool organisation to ensure these standards are met. For example, practises such as 'mulesing' are illegal in the UK but are still widely used in Australia. At Devon Duvets, our beautiful British wool is fully traceable from farm to finished product (from Sheep to Sleep!), because we purchase our wool through the British Wool traceability programme and from farmers whom we know have the highest standards of animal welfare. We also pay a premium over the market price to our farmers, to ensure they can continue to provide us with the high quality wool we use for our products. Our wool comes from live sheep and we have only ever purchased wool from the Spring and Summer shearings, when the sheep need to be sheared to relieve them of their heavy winter fleeces. British Wool are the official providers of training courses for shearing, training more than 800 people across the UK each year.
What grade is the wool? There are over 1,000 breeds of sheep around the wool and grading standards can vary, according to the country of origin. There are also many different types of fleeces, and each one is graded accordingly. The UK has more sheep breeds than any other country in the world and the wool from British flocks is tested and graded by British Wool, dependent upon the product it will be used for, whether it will be used for clothing, knitting yarn, carpets or bedding. This testing and grading process ensures that a high quality, consistent product reaches consumers. At Devon Duvets we only use very high-grade British wool, with a soft, fluffy but slightly springy texture for our duvets, toppers and pillows.
Where is the wool milled? Wool is cleaned and processed in mills around the world. British mills have been known for the quality of their wool washing and milling processes for hundreds of years and so if you are choosing a product that's made with British wool, then it also makes sense if the wool has been milled in the UK. This is important for two reasons. Firstly, it supports this key traditional British industry and secondly, it also helps to minimise the carbon footprint as the wool is not being sent outside the UK for milling. We only ever use our specially selected British mills for cleaning and preparing our wool.
Is the wool chemically treated? If you have made the decision to purchase a natural product to enjoy all the benefits that this provides, then you probably aren't going to want something that has been treated with bleach or other chemicals. As we always purchase natural white British wool, we do not need to bleach it to make it white. Neither is our wool treated with chemicals in the washing ('scouring') process because we want it to retain as many of its natural properties as possible
Where is the wool bedding made? A large percentage of the wool bedding sold in the UK is made overseas, often on large scale premises, and the finished products are then shipped into the UK. At Devon Duvets, we are proud that as well as using fully traceable 100% British wool, each of our duvets, toppers and pillows is individually handcrafted by expert seamstresses right here in the UK - and on our own premises, located on the edge of Dartmoor. They are not made for us by anyone else, so we are able to see our products being made all day, every day - and can do so by just walking into the workshops next to our customer service team. What's more, because each of our products is individually handcrafted, this also means if one of our customers has a special request, or needs a bespoke size, we can go and have a chat to our Head Seamstress then and there to discuss options.
If you are interested in chatting to the team about our British wool duvets, toppers or pillows or would like any help in choosing the right product for your needs, then call 01752 345399 or just get in touch via email.