Certified 100% British wool...soft, 100% natural and hypoallergenic
We handcraft each and every one of our award-winning certified 100% British wool products in our Devon workshops, creating gorgeous, super soft bedding for every season. Wool is a wonderful natural product that is breathable and temperature regulating, adjusting to your body temperature to keep you cooler in the warmer months, but nice and snuggly whenever the temperature drops. Add our wool pillows and wool mattress toppers and you'll be wrapped in bliss from head to toe! 
Because your 7-8 hours of sleep are important to us, we stitch love and care into each one of our British wool products. We simply aren't prepared to compromise on quality by cutting corners., so we also only use the most superior quality British wool, as certified by British Wool. We believe our wool products are the best and so do our thousands of happy customers - as do two national newspapers, who've given us 'Best Duvet' awards. Our wool duvets have also been praised in Prima magazine's recent menopause feature, as helping to achieve relief from 'night sweats'.
We are proud to have been awarded the British Wool mark because our wool comes from responsible, traceable sources. Not everyone can guarantee this certification, so it's reassuring to know that when we say your bedding is made from 100% British Wool, that's exactly what you are getting.
We use only the softest, fluffiest British wool, cleaned without bleach or chemicals, encased in beautifully soft 100% natural 260 thread count cotton - so you'll be wrapped in luxury and comfort, from head to toe.
Each and every one of our wool products are individually handcrafted by our expert seamstresses at our Devon workshops.
Because our wool is all British wool, sourced from UK farmers, and our wool bedding is handcrafted in the UK, our products have a small carbon footprint - and this is important to us and our customers.
In a nutshell, who doesn't deserve to tuck themselves into bed with wool bedding as luxurious as that?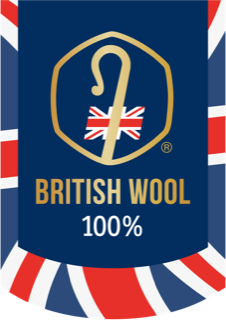 | | |
| --- | --- |
| Features | Benefits |
| 100% natural product so is breathable and temperature regulating. | Keeps you cool in Summer but also warm in Winter, helping you get a great night's sleep. Helps combat 'night sweats'. |
| No bleach or chemicals used when wool is cleaned; no glues, artificial fibres or bonding agents are used.  | Nothing except what nature intended next to your skin and also better for the environment. |
| Wool is needled into one sheet and carefully stitched into casing. | Does not require shaking, does not clump, providing superb light drape. |
| Resists dust mites. | Helps to relieve symptoms of allergies and asthma. |
| Responsible and sustainable. Wool is shorn from live sheep in traditional way, cotton casing is made from thread under the Better Cotton Initiative, packaging is biodegradable. | Environmentally-friendly and won't end up clogging landfill sites when it's time to change your duvet. |
| | |