Tailor-Made Comfort: Bespoke Bedding Solutions
Bespoke Handcrafted Bedding for Your Perfect Sleep

Discover our luxurious bespoke bedding collection, featuring custom duvets, pillows, and mattress toppers, all handcrafted by our experienced seamstresses in our Devon workshops. Our 100% natural soft-filled products use traceable British wool and ethically-sourced fibres, ensuring ultimate comfort and sustainability for your best night's sleep. Experience the luxury and craftsmanship of Devon Duvets' individually handcrafted bedding solutions.


Whether you require a wool mattress toppers for your campervan, caravan, or boat, or need a custom-sized duvet for an unusual bed size, our experienced seamstresses can craft the perfect solution for your needs. Our bespoke bedding is designed to provide exceptional comfort and an unparalleled night's sleep. So comfy that you won't want to go home from your travels.
Explore our bespoke collection today and experience the difference of handcrafted, natural, and sustainable bedding that is tailored to your needs. With Devon Duvets, you can rest easy knowing you're investing in the highest quality bespoke bedding for the best night's sleep possible.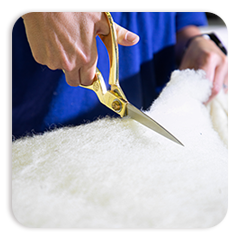 Uniquely made to order for more unusual sizes.