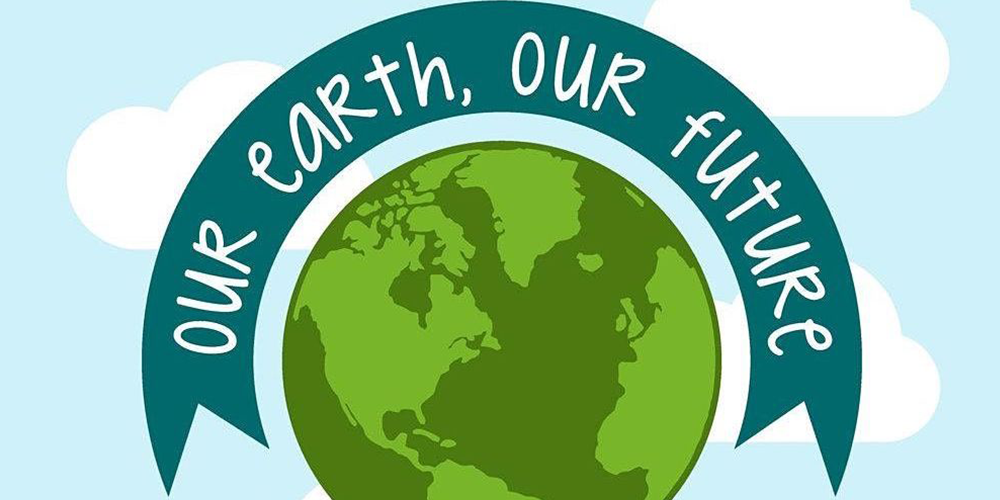 On the 22nd April, the world stops and pauses for Earth Day.
On this day, more and more of us make a conscious effort to conserve energy, and think about our impact on our beautiful planet.
We can all make a difference, however small it may seem at the time – and at Devon Duvets, sustainability and our impact on the environment is always at the heart of every decision we make throughout the year.
For example, we only ever use 100% certified British wool in our award-winning wool bedding. We buy our wool from British farmers who only shear in the Spring and Summer, when the sheep naturally need to lose their winter fleeces. Our wool is then cleaned in British mills, without the use of bleachor chemicals, and needled into a soft fluffy layer. The wool is then individually hand stitched into 100% natural cotton casings by our expert seamstresses, here in Devon. So when you buy a wool duvet from us, you can be confident you are getting a product that's 100% sustainable and 100% natural.
As an alternative to wool, our 100% plant-based Botanic duvets are made with fibres containing TENCEL™Lyocell, created from certified sustainable wood sources, through an Eco award-winning process. As with our 100% British wool duvets, each of our Botanic duvets is handcrafted by our seamstresses at our Devon workshops. Also an award-winner, our Botanic range was the first bedding of its type to be registered by the Vegan Society.
In fact, our aim is to be sustainable in our everyday processes here at our Devon workshops, and this includes our long-held commitment to achieving a 'zero waste' policy. We're almost there and are proud to say that over 99% of everything we produce in terms of 'waste' is either reused or recycled. For example, one well known rubber glove brand creates the lining for their gloves using offcuts from our beautifully soft 100% natural cotton mattress topper casings!
Finding the right kind of packaging has been a big part of our product development. Our outer shipping packaging is recyclable, and our individual, zipped product bags can be reused in all sorts of useful ways to help with storage around your home. We've put our heads together to come up with some suggestions and we're sure that there are lots more that we haven't thought of – but you will!
Rotating your winter or summer clothes: Our reusable bags will fit several jumpers and other winter clothing, or a stack of T-shirts and shorts. Once sealed, you can pop them on the top shelf of a cupboard, under your bed or anywhere else that's dry, such as inside a suitcase, ready for when you need them.
Your spare duvet: Some of us sleep under an 'all-seasons' option but many of you prefer to use our light or ultralight duvets for summer and a warmer tog duvet for winter. This means you'll need to store the one you're not using. Hanging on to your reusable bag will ensure your duvet is kept neatly stored away for you.
Beach towels and swimwear: Hunting for swimming costumes and beach towels can be time consuming, especially if you've put them somewhere 'out of the way' until the summer – or until it's time for your holiday. Put them altogether in your reusable bag and they'll be easy to gather up when it's time to pack.
Throws: Many of us use throws in winter for snuggling up on the sofa to watch our favourite programme. Once winter is done and dusted, pop your throw into your reusable bag and store.
Outdoor cushions: No one wants to sit on damp, over-wintered cushions for that lovely first-of-the-season outdoor cuppa! That won't happen if you've tucked them into your reusable bag. They're tough enough to stay on a dry garage shelf if you don't have storage elsewhere.
Spare fabric and knitting wool stash: Gather it all up into our reusable bag and keep it together in one easy-to-find location. If you're a crafter then you can also use it as extra storage for your materials or card paper.
Spare bedlinen and pillows: If you don't have a linen cupboard, use our bagto tidy away your extra linen or pillows and then store on a cupboard shelf (or even on top of your cupboard), or under your bed.
You can read more about our 'Zero Waste' policy here and if you like to find out more about our products, visit our website or contact us and we'll be happy to help.