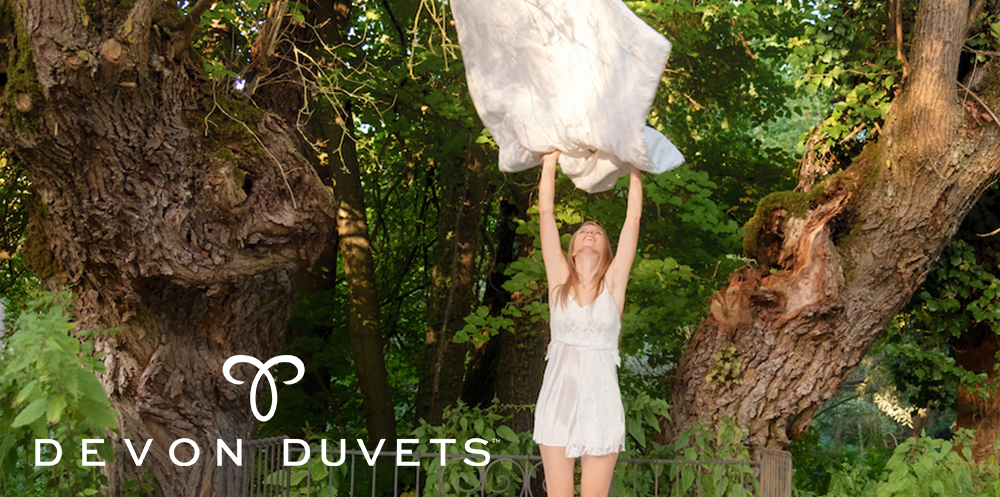 At Devon Duvets, looking after our planet is at the heart of everything we do – and that's why all of our duvets, pillows and bedding are made from responsibly sourced, environmentally friendly, 100% natural materials. We initially founded our business making our award-winning wool filled bedding, using 100% British wool so that we could support British farmers. We then designed and created our Botanic duvets so that we could also offer a 100% plant-based option – and we're proud that these duvets are the only bedding product of their type registered by the Vegan Society.
Here are five reasons why our customers love their Botanic duvet.
1. The filling of our Botanic duvets contains TENCEL™Lycocell, which is a 100% natural, ethical fibre, derived from certified and controlled sustainable wood sources. It is processed using an Eco award-wining process and then needled into soft fluffy layers. TENCEL™Lycocell fibres are fully traceable, so you can be sure you are buying a 100% plant-based product. Other plant-based fibres, such as bamboo, are not fully traceable once processed, so it's reassuring to know that when we say your Botanic duvet is 100% plant-based, that's exactly what you are getting.

2. The 300 thread count duvet casing also contains TENCEL™Lycocell, woven to our strict specifications. Your Botanic duvet will be individually handcrafted by our expert seamstresses to ensure the layers of filling are stitched into the casing, creating a  duvet with a beautiful drape, that does not require shaking and does not clump.

3. We do not use glues, bonding agents or artificial interlining so there is nothing except what nature intended next to your skin. Your Botanic duvet is breathable and also has moisture wicking properties, so will help with temperature regulation whilst you sleep.
4. As our Botanic duvets are made from 100% natural products, your duvet won't clog up landfill for decades when it's time to replace it, but will naturally biodegrade without harming the environment.
5. As already mentioned, our Botanic duvets are the only bedding products of their kind to be registered by the Vegan Society. Not only that…they have also been tried and tested by the Good Housekeeping Institute and featured in Good Housekeeping magazine, and have also won a 'Best Duvet' award in the national media.
Our Botanic duvets come in a range of standard sizes and a choice of weights and togs, including Ultralight, Light and Medium weights, so if you need help in selecting the perfect one for you, then just give us a call on 01752 345399 or email us and we'll be happy to help!