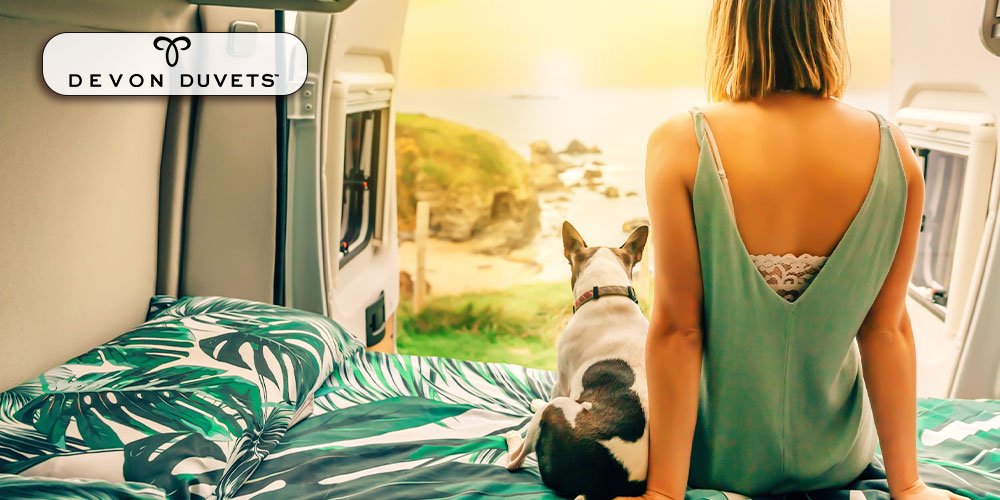 Those of us who are motorhome owners love the freedom of the road and the adventures we experience as a result. Wherever we go, whether that's staycationing in the UK or going further afield, we all agree on one thing – getting a good night's sleep means that we get the most out of our holiday, especially if we have to be able to concentrate when spending time on the road, moving from place to place.
How can I make my motorhome bed comfier?
The only downside to being on the road can be that the mattresses in our 'home from home' aren't always as comfy as we'd like. Perhaps they might be a bit on the hard side – or almost non-existent – and that can mean you don't get as much sleep as you need to benefit from your time away. The good news is that we're motorhome enthusiasts at Devon Duvets. This means we understand what makes travel experiences even better, and that's because we're also experts at crafting sumptuous wool toppers to add a wonderful layer of comfort to an overly firm mattress or bed.
What makes a Devon Duvets bespoke mattress topper so special?
Individually handcrafted, our toppers are made from authentic, traceable 100% British wool that's cleaned in British mills, without using any chemicals, and then needled to create fluffy layers of wool. Once the wool arrives at our workshops, it is hand cut to size and encased in luxuriously soft 100% brushed cotton by our team of professional seamstresses. What's more, because our products are handcrafted by us, here in our own workshops on the edge of Dartmoor, we're able to make bespoke sizes that will fit your van. We can even include cut outs to fit round bulkheads or cupboards, or angles for specially shaped beds.
Why is wool the perfect filling for my bespoke mattress topper?
Wool is a wonderful fibre, working with your body to keep your core temperature balanced throughout the night and helping you to have a more restful night. It's dust mite resistant too, which means it is anti-allergy and hygienic. Natural and sustainable, our high-grade wool is gathered from farmers whom we know have the highest standards of animal husbandry. We use natural white wool from a single breed that is especially renowned for the quality and springiness of its wool. Our wool is also certified by the British Wool organisation, and as our farmers are part of British Wool's traceability programme, we ensure they are paid a premium over the market value for their wool.
How can I order my bespoke mattress topper?
To top up the luxury in your motorhome, campervan or caravan, just give the team a call on 01752 345399 or get in touch via email, to discuss your requirements and we'll be happy to help.