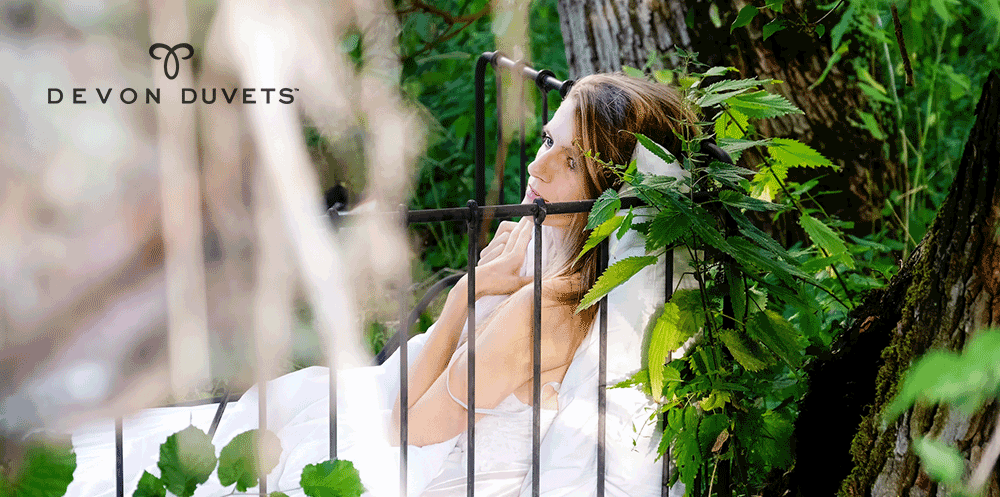 How sustainable is your duvet?

Sustainability is high on so many of our lists these days. It's not just about what a product is made from but how that product is made as this can also make a big impact on the earth.
First off…products that are made from synthetic materials are not generally sustainable or ethical. They are often made from fibres that are by-products of chemicals or petroleum derivatives and will not break down easily once disposed of and can even leach harmful elements into the environment.
Natural products tend to be sustainable and therefore cause less damage when they come to the end of their natural life. The often-used counter argument is that natural products are more expensive than synthetic ones but, natural products often last longer and therefore are better value for money.
Natural products also tend to be better for your health and this is especially the case when it comes to the quality of your sleep.
Long before the time that each one of our award-winning wool duvets is individually handcrafted by our talented seamstresses, here in Devon UK, a lot of forethought and planning has gone into the individual components that are used to make them and how they are made.
This means that when you buy a duvet from us, you can be confident you are buying a natural and sustainable product that will also help you to sleep better.
We have four standards that we have set when it comes to our products, and we ensure that we always meet and achieve them, by constantly asking ourselves the following important questions:

Are our duvets Natural?

Our duvets are 100% natural. They are made with natural wool, a wonderful fibre that is naturally breathable and temperature regulating, as well as being resistant to dust mites and the build-up of micro bacteria.
The wool is encased in 100% cotton.
Are our duvets and bedding chemical free?

We do not use chemicals when washing or needling our wool because we want our wool to retain as many of its natural properties as possible.
We also only ever use high quality, natural white wool, so there is no need to bleach it. The 100% cotton fabric used for the casings is not bleached but is dyed using an eco-friendly dye.

Are the materials used to make our duvets responsibly sourced?

We only ever use authentic, fully traceable British wool that is certified by the British Wool organisation and comes from farmers that we know have the highest standards of animal husbandry.
Our wool comes from live sheep and from spring and summer shearings, when the sheep need to lose their heavy winter fleeces.
The 100% cotton fabric that we use is certified by Better Cotton, an initiative that promotes and supports better environmentally friendly and socio-economic cotton farming practices.
Our duvets and bedding are packed and dispatched in bio bags inside FSC cardboard boxes.

Are our duvets sustainable bedding?

Sustainability and giving you the best night's sleep is at the core of everything we do. For example, our duvets are individually handcrafted by our talented seamstresses, here in Devon. Our bedding are not made for us by anyone else.
This means we know exactly how each duvet is made and can pay special care and attention to each customer's order, measuring and hand cutting, to ensure minimum 'wastage'.
We have a Zero Waste policy and so wool trimmings are composted and another business uses our cotton off-cuts to make linings for household gloves.
As our bedding is made with 100% natural materials, they are 100% sustainable. The flocks where our wool comes from are shorn each year in the spring and summer, and their fleeces regrow so that they have their woolly coats back in time for the colder months.
When the times comes to replace your wool duvet, you can compost the wool where it will release nutrients back into the ground as it biodegrades.

Do we use BCI cotton in our ethical bedding?

The cotton casings will also biodegrade harmlessly into the environment. Our research led us to the Better Cotton initiative, the world's leading sustainability initiative for cotton.
This is a non- profit organisation that was founded over 18 years ago, to help cotton communities survive and thrive, while protecting and restoring the environment.
Education and support for these communities now means that nearly two million farmers, in 23 countries are now licensed to sell their cotton as 'Better Cotton'.
As mentioned in the above point, the boxes in which we pack and dispatch our duvets are made by another local Devon-based company and are made with FSC cardboard.
Your first step to sleeping under a 100% natural, 100% sustainable, beautifully British, individually handcrafted bedding…

If you are interested in our wool duvets and would like to discuss which of our individually handcrafted bedding is best for your requirements, then please do get in touch via email or on 01752 345399.
We will have checked your bedding product before sending it to you. However, should you find any issues with it once it has arrived with you, please do contact us and we will help you to get. full refund.