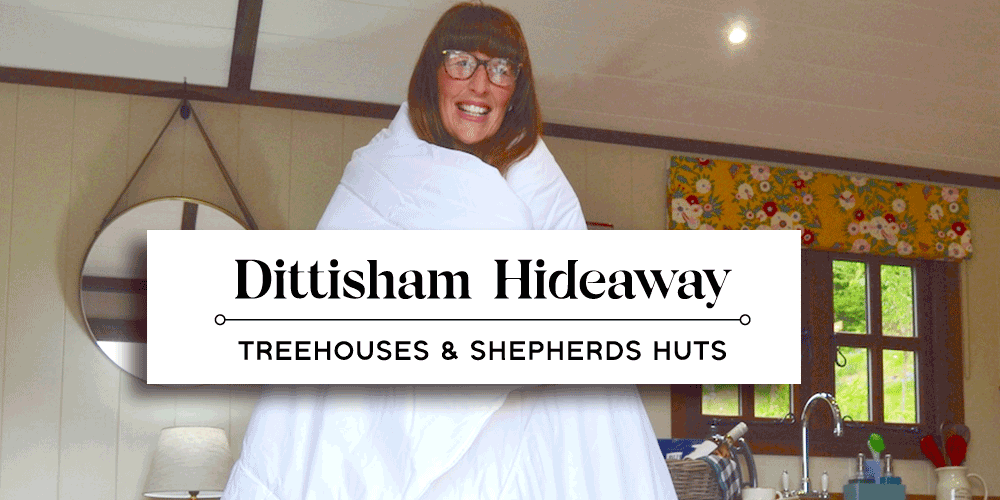 The Devon Duvets team is thrilled to be crafting our award-winning duvets for exclusive holiday destination, Dittisham Hideaway.
Dittisham Hideaway is the latest venture from hotelier and entrepreneur, Peter de Savary and his wife Lana. The collection of Treehouses, five luxury Shepherds Huts and an original, but fully renovated, 1956 American Airstream, is tucked away in magical wooded valley with meadows and a stream, in the heart of the South Devon countryside. Perfect for couples or families, Dittisham Hideaway is also dog friendly.
We've always been committed to making natural products that are as sustainable as possible, and so working with Dittisham Hideaway, whose focus is on providing their guests with a 'close to nature' experience, felt like the perfect match. We all agreed that there could not be a more appropriate duvet than ones made from beautiful 100% British wool, especially as Shepherds Huts are included in the choice of accommodation!
It's not just Dittisham Hideaway's stunning location that brings guests close to nature - it is incorporated into the accommodation, each one of which has a high level of interior design, including artisan-crafted wood finishes and highlights, eco toiletries, its own private decking area with a traditional wood-fired cedar hot tub, hammock, and BBQ/outside dining area. Another specially included treat is the Welcome Hamper with tasty West Country produce. The gorgeously comfy beds have luxurious 100% cotton bedlinen and our award-winning, individually handcrafted, 100% British wool duvets. So, even when you're tucked up in your bed, you'll still be close to nature.
Dittisham Hideaway offers woodland walk activities, eco car charging points, electric wheelbarrows for use during your stay and a dog welcome pack. The site is only 5 minutes from the village of Dittisham and the River Dart, with the historic towns of Dartmouth and Totnes close by.
The team at Dittisham Hideaway said: "Working with local businesses and striving for sustainability are at the core of our passion and ethos here, providing the ultimate back-to-nature, luxurious holiday experience."
Our founders and owners, Dick and Pauline, added: "Responsible sourcing and sustainability are at the heart of Devon Duvets. We put a lot of love and care into everything we make, here in our Devon workshops, to ensure our products are 100% natural and offer a high level of quality. This is made possible by years of hard work in researching the right materials and by the expertise of our very talented seamstresses. We are delighted to be working with another Devon-based, family business that shares our values."
Dick and Pauline visited Dittisham Hideaway to do a duvet handover, and to get a 'behind-the-scenes' peek. You can get your own peek by watching our video!
What's more… Dittisham Hideaway has been already receiving some lovely feedback from guests, including mentions of our duvets.
Kerry posted on social media: "We tried your duvet when we stayed in Dittisham Shepherds Huts on May bank holiday weekend. I loved it! Would love to get one to replace my goose down duvet at home."
Sarah left a review in-house at Dittisham Hideaway: "We had a wonderful stay in Buzzard Treehouse, the facilities were outstanding, cosy and so comfortable…we found the bed super comfy and loved the wool duvet and throw…"
Paul left a review on Trip Advisor: "We have just returned from a fabulous trip with a 3 night stay in the American Airstream…facilities were excellent, and the fittings and bedding were sumptuous…"
If you'd like to know more about Dittisham Hideaway then visit their website or contact them here.
For more information about our 100% British wool duvets, pillows and toppers please get in touch or call 01752 345399.
Read more about Dittisham with this wonderful review by Triper Reporter here: https://www.tripreporter.co.uk/reviewed-dittisham-hideaway-devon/