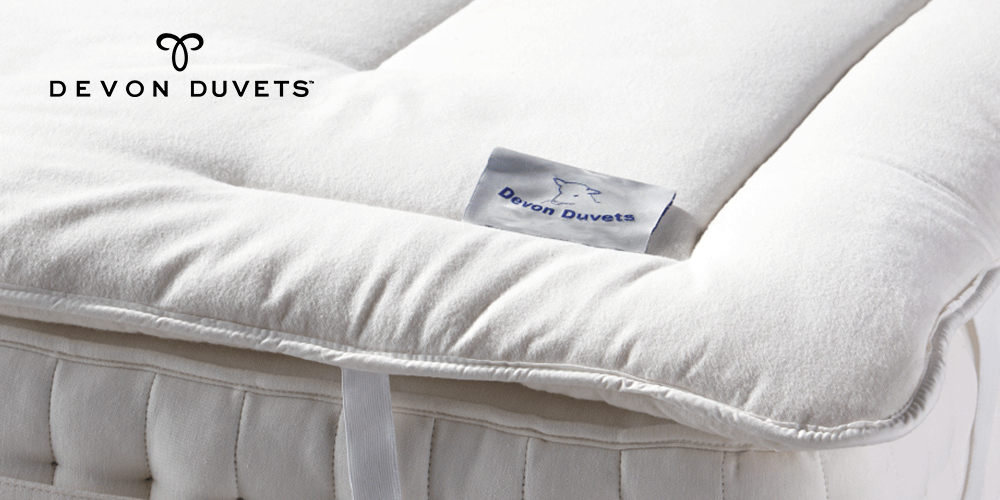 A mattress topper sits on top of your mattress to give an extra layer of comfort. It is thicker than a mattress protector and can also prolong the life of your mattress as they are easier to keep clean than a mattress.
A mattress topper with a soft, flexible filling will make a big difference to your comfort level in bed and provides additional support whilst you sleep. They are also fantastic when used with a sofa bed, to provide a bit of extra thickness and comfort. All you need do when your guest has left, is fold up the mattress topper and put it away.
The most important factor in a mattress topper is the material with which it is made.  At Devon Duvets, our mattress toppers are made from Certified 100% British Wool, from responsible sources and encased in 100% cotton. The cotton casing is woven especially for us, to support the breathability of wool and is brushed on both sides to create a luxurious feel and help it to stop sliding around on your mattress. There are also broad elastic straps at each corner to help hold it in place.  Each of our mattress toppers is handcrafted by our expert seamstresses in our Devon workshop, where quality is paramount.
Wool is a naturally hypo-allergenic material that is anti-bacterial and resists dust mites. This helps to alleviate the symptoms of allergies or asthma and, thereby, aids a good night's sleep. Additionally, because wool is breathable, it makes a wonderful temperature regulator, helping to keep you cool when you are hot – and vice versa. It's also gorgeously soft!
Although some people might consider a mattress topper to be a luxury, in fact it can really help if you suffer from back or joint pain, as it provides a soft layer beneath your body but you will still have the additional support of your mattress underneath. Sometimes it can be a struggle to turn or flip a mattress as recommended by most mattress manufacturers  but this is easy to do when all you are flipping or turning is a mattress topper – and you have the added benefit of being able to keep it clean. 
Our wool mattress toppers are easy to care for; turn regularly on the bed and use both sides. To keep fresh simply hang outside to air. Any areas requiring more attention can be spot cleaned.
All of our mattress toppers are available in standard UK single to emperor sizes and also in standard EU sizes. We can also make bespoke sizes – just get in touch on 01752 345399  or via [email protected] and let us know how we can help.