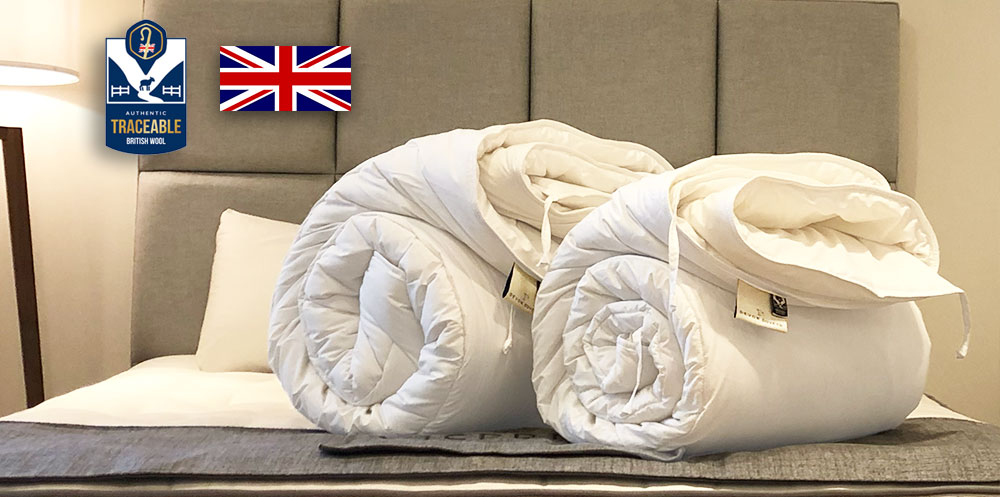 Our duvets, toppers and pillows are Beautifully British because they are 100% made in Britain. What's more, nobody else makes them for us. We individually handcraft every single one, here in our own workshops at the edge of Dartmoor.
Beautifully British Handcrafting
It starts from preparing and cutting the 100% cotton casings, sizing and cutting the wool layers (or fluffing wool for pillows), laying up, through to stitching, binding, adding ties for duvets, elastic straps for our toppers, adding zips to our pillows and (phew!) sewing in the labels. Each stage done right here and by the Devon Duvets team of professional seamstresses, wool fluffers and pillow stuffers!
Beautifully British Wool
We're committed to supporting our hard-working farmers and this was - and still is - the main motivation behind the founding of Devon Duvets over 14 years ago, and the creation of the UK's first 100% British wool duvet. In other words, the wool we use is Beautifully British too, gathered from British flocks cared for by our selected British farmers who we know adhere to the highest standards of animal husbandry. Fully traceable from farm to duvet, topper or pillow, our wool is certified by the British Wool organisation, and by being part of their traceability programme, we ensure that our farmers receive more than the market value for their fleeces.
Naturally Beautifully British
We strive to keep our products as natural and sustainable as possible. That's why we don't use chemicals when our wool is washed and prepared for us - in our carefully chosen British mills. We want the wool to retain as many of its wonderful natural properties as possible and that means keeping it chemical-free. That it makes it better for you and for our beautiful British environment.
Beautifully British Bespoke Options
Our packing and warehousing teams are here in Devon too and in the same building as the rest of the Devon Duvets team. This means we are all constantly liaising with each other about our customers' requirements. Need a bespoke size topper? No problem! Because each item is individually handcrafted, here in our workshops, our customer sales team can just pop next door and discuss any special sizes, angles or 'cut outs' direct with our seamstresses.
For more information about our wool duvets, toppers and pillows, just give us a call on 01752 345 399 or contact via email to discuss your requirements.