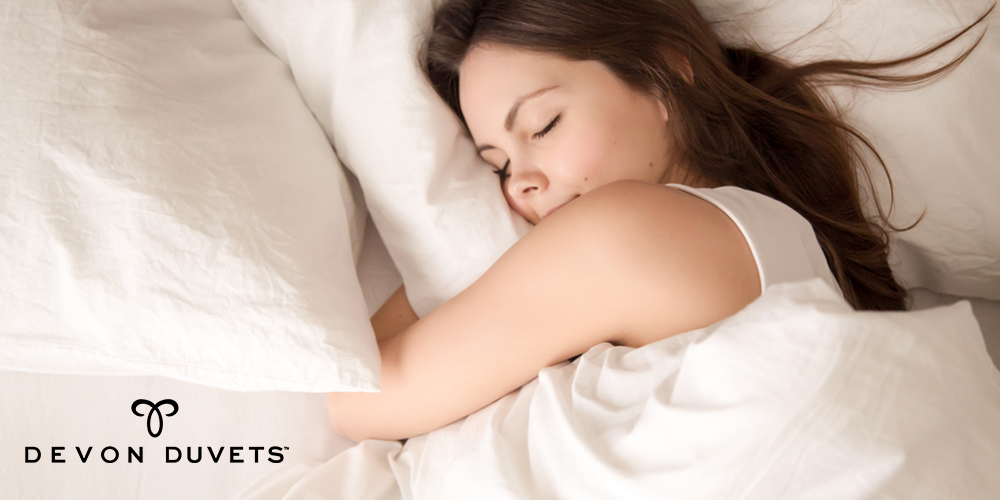 Most of us are likely to be affected by poor sleep at one point or another in our lives and we all know that a bad night's sleep will impact on how we live, work and react during the day. There are many reasons as to why we can suffer from disruptive sleep patterns, including stress, changes in body temperature (not always the fault of the menopause!) and allergies. 
We thought it would be helpful to share some ideas on how combating sleeplessness can be helped through a more natural approach. This includes information on some complementary therapies and explains why the choice of natural bedding can help to aid a more restful night's sleep.
Aromatherapy: This can help ease you into sleep through the use of essential oils. Usually these are extracted from flowers, fruits, herbs and other natural sources. Herbs, such as marjoram or flowers such as lavender and chamomile and calming and soothing but there are hundreds of choices available, which can be used in a bath or during a massage. 
Massage: There are many types of massage which can be applied to the body as a whole or to specific areas of the body. Essential oils are often used during a massage. It helps to relieve stress and tension, slows down breathing and makes you feel calmer. A skilful practitioner will also be able to give you aftercare tips, such as breathing exercises and muscle relaxation techniques to help build on the benefit of your massage.
Hypnotherapy: Many individuals have used this technique to help with a range of sleep-related problems, including turning negative thoughts about sleep into positive ones. A hypnotherapist can also use the technique to help gain insight into why someone might be experiencing poor sleep and help them develop strategies to cope and combat the problem.
Herbal Teas: It's best to avoid drinking caffeine before you go to bed and stick to herbal teas. Most supermarkets and health food shops will have a good range of these and the herbal tea company Pukka offers some good advice on the best teas to help you sleep.
Blissful Bedding: Wrap yourself in bliss from the moment you tuck yourself into bed. At Devon Duvets, we only make duvets out of 100% natural products. So, they are breathable and therefore have temperature regulating properties, as well as being beautifully soft and comfy. Our wool duvetsare handcrafted in our Devon workshop from the finest 100% Certified British Wool, responsibly sourced and milled in the UK and then encased in 100% cotton with a silky 260 thread count. They are also naturally anti-bacterial and resistant to dust mites so are a fantastic choice for those who are kept awake by allergies.
Our Botanic range containsTENCEL™Lyocell, a plant-based fibre that is created from sustainable wood sources, through a pioneering Eco award-winning process. Again, handcrafted by our expert seamstresses, these duvets are also temperature regulating and beautifully soft against the skin, adjusting to your own body temperature and helping you to achieve a better night's sleep. Our Botanic range is registered by The Vegan Society.
Whichever you go for, you can be confident that you've made a natural choice, as both duvet ranges were also created to be sustainable and biodegradable.
For the finishing touch…our pure white 100% cotton sheets, duvet covers and pillow cases are made from the Pima cotton, considered to be the world's finest quality cotton. Made with a super-soft 450TC or 'thread count' in a sateen weave, the breathability of this lovely fabric works in harmony with our natural duvets to help create an even sleeping temperature.
To find out more about finding the right complementary therapist for your needs, visit the website of the Federation of Holistic Therapists, which was established in 1962 and is the UK and Ireland's leading and largest professional association for therapists. 
Disclaimer: Please make sure that if you are on prescribed medication/ treatments or are pregnant and are considering any complementary therapies you first seek advice from your doctor or other health professional.