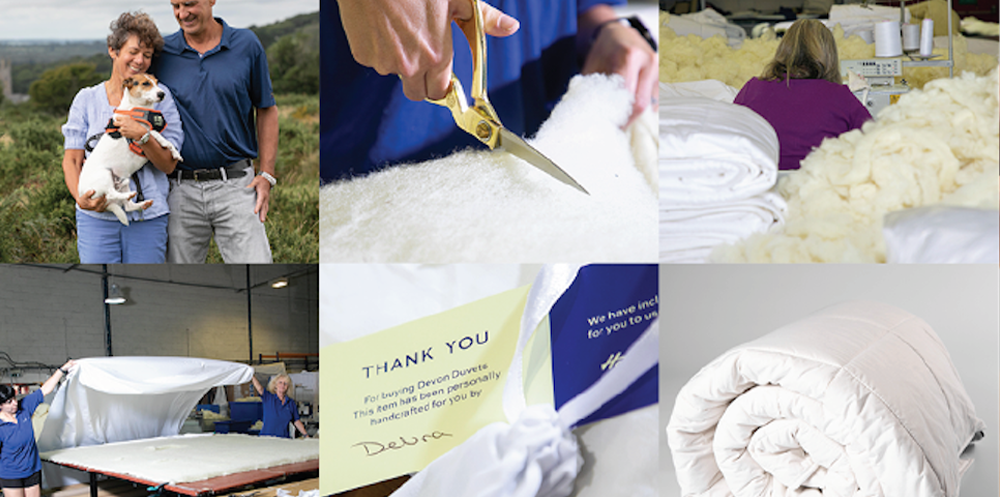 We'd like to take you behind the scenes at Devon Duvets to give you a glimpse of the love and care that goes into each step of handcrafting our award-winning certified 100% British wool duvets.
Firstly, our talented seamstresses cut the 100% natural cotton fabric required for the duvet casing, to the customer's specific requirements. This could be for a duvet for one of our standard UK or EU sizes or could be a bespoke size for a custom-sized bed, campervan or berth in a yacht. This is still done in the traditional way, using a measuring table and classic dressmaking scissors that are specially sharpened to ensure accuracy and straight lines, and ensures the cotton is not stretched out of shape or torn. Two matching sized pieces of cut cotton fabric are required per duvet casing.
Next comes the wool – certified 100% British wool, purchased from British farmers. The wool is cleaned in British mills, without the use of chemicals or bleach, and then needled to our exacting specifications to create soft layers with plenty of 'loft'. The wool arrives at our Devon workshops from the mill in large rolls and so, again, the amount of wool needed for each duvet is measured by hand, carefully cut and then encased inside the cotton fabric, taking great care not to stretch the wool but still ensure there are no areas of the duvet that do not contain the soft woolly filling. Although this is more time consuming, we do it to ensure we create a duvet with a beautiful drape that will wrap around your body for a luxurious slumber.
The wool layers are then stitched inside the casing, making sure that when you are tucked under your duvet, the wool will always stay nicely in place and so there is no need for shaking the duvet when you make your bed. This is also a time consuming and delicate process and includes 'overlocking', done by specialist seamstresses in our team. They use an overlocker sewing machine that stitches the edges whilst trimming at the same time to ensure that all the wool is secured and neatly stitched off.
The duvet is then finished by the seamstress, with binding, to give a nice finish. During this process our signature Devon Duvets label is sewn in, along with ties. We include ties on our 100% British wool duvets, enabling our customers to add another duvet on top if they wish.
The final stage is packing and despatch. Each finished duvet is inspected, carefully folded and put inside its reusable storage bag. The finishing touch includes a bag of gorgeous English lavender for your linen closet and a note from the seamstress who has made your duvet for you. These are popped inside the bag with the duvet and then your 100% British made duvet is on its way to you!
You can find out more about our certified 100% British wool duvets on our website. You'll find details about sizes, how to order a bespoke size plus discover the unique features and benefits of sleeping under a wool duvet.