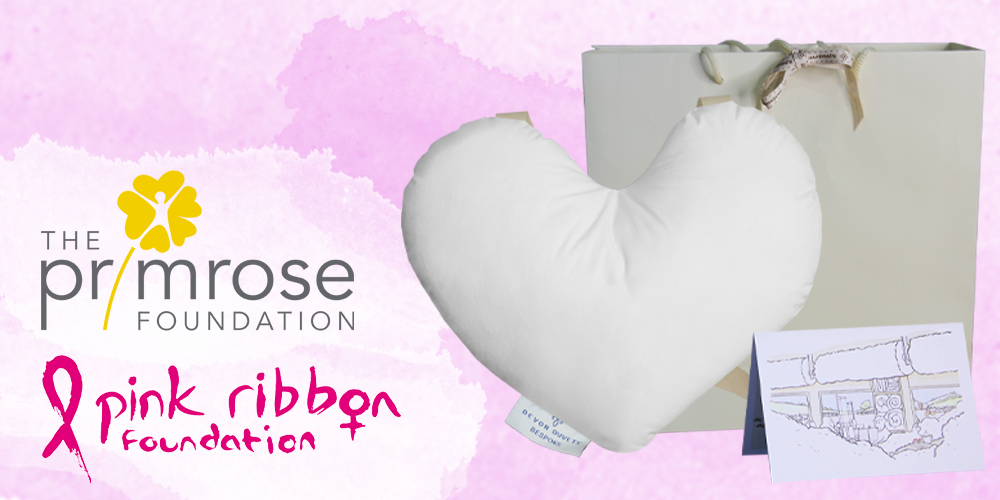 Research shows that wool can really help when it comes to getting better sleep. It's breathable, regulates temperature, can lower blood pressure and overall can help you to achieve a more restful night. We call this 'wool wellbeing' and we are always looking for new ways in which we can use this wonderful fibre to help improve our customers' sleep. So we're especially proud to introduce our special Comfort Cushion, launched in October 2022, as part of Breast Cancer Awareness Month.
What is a comfort cushion?
A comfort cushion, sometimes called a lumpectomy or mastectomy pillow, can help bring relief during breast cancer treatment and recovery. Comfort cushions can be used to protect your incisions, reduce the strain on your surgical areas, and keep you comfortable. Your skin may be extra tender in the areas where the drainage tubes leave your body (or have been removed), and many people find that pillows help to make them more comfortable. Comfort cushions are soft, small pillows that are shaped to fit under your arm and against the side of your breast or chest.
How can a comfort cushion help?
After a lumpectomy, mastectomy and/or breast reconstruction, you are likely to feel tender for several weeks, sometimes months. Having breast surgery changes the balance of weight on your chest muscles. Until you heal and your body adjusts, using a shaped comfort pillow can help to support your breast or your reconstruction.
Your surgeon may have removed some, or all, of your axillary, or armpit, lymph nodes as part of your treatment, and this procedure can cause your breast or armpit to be tender, tight, or uncomfortable. The breast and the armpit are areas where you have many nerves and where the skin often rubs together.
Once you are moving around after surgery, a comfort cushion can be your constant companion. You will likely find it useful when you are in the hospital, and once you are back home. It will cushion your armpit area and decrease the feeling of skin and muscle pulling or rubbing. It can help you to sleep better, by providing support to your underarm and the side of your breast or chest if you have to sleep in a more upright position – and will give support if you are lying on your side once you have started to heal. It will offer comfort and support whilst relaxing on your sofa at home, watching TV or reading. You can also use it to 'cushion' the seatbelt when driving - once you are given the go ahead to drive by your consultant or surgeon.
Made with Love…the Devon Duvets Comfort Cushion
We developed the Devon Duvets Comfort Cushion with the help of one of our team who has experienced breast cancer surgery herself and had found a comfort cushion an invaluable part of her recovery. The reassurance and comfort these little pillows offer can help alleviate some of the discomfort felt during what can be a difficult and emotional time.
We have been experts in making superb quality wool filled products, including duvets, pillows and mattress toppers, for over 12 years and so we have used our skills to make these lovely comfort cushions. Individually handcrafted, with love, by our wonderful seamstresses, here at our Devon workshops, each one is made from softly fluffed traceable 100% British wool, with a casing of high quality 100% cotton that is certified by the Better Cotton initiative*. As with all our wool filled bedding products, they are natural, sustainable, and chemical free.
As going through breast cancer is a difficult time, we wanted to ensure our Comfort Cushion would be affordable. So, we made the decision that we would not make any profit from this item and that it would include free delivery. Also, with each purchase, we donate 50p toThe Pink Ribbon Foundation (the national breast cancer charity) and also 50p toThe Primrose Foundation, which supports the breast cancer clinic at our local hospital in Plymouth.
You can find further information about our Comfort Cushion here. If you have any queries, then do call the team on 01752 345399 or send us an email. We're here to help!
* Better Cotton is an initiative that supports and promotes better environmental and socio-economic cotton farming practices around the world.