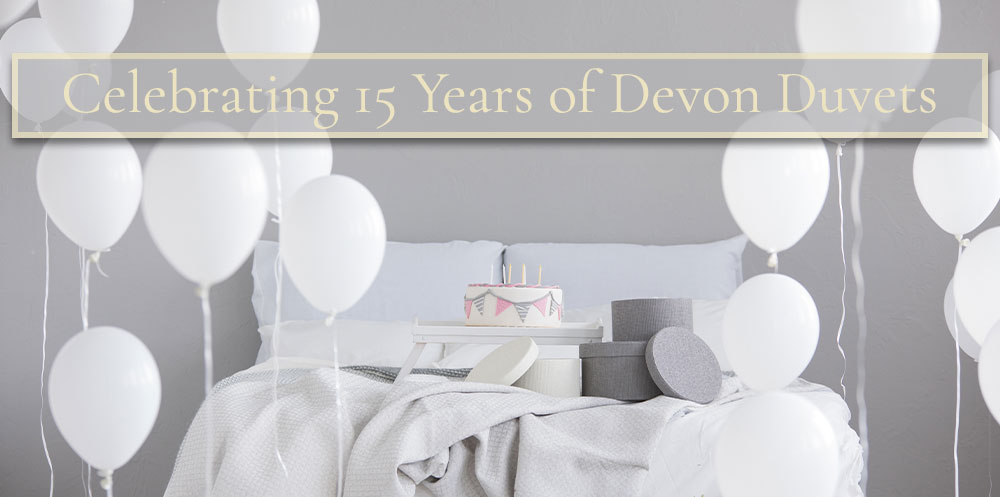 ---

---
Handcrafted Bedding: Our Commitment to Quality and Sustainability
---
It was back in 2008, when Dick and Pauline moved to a smallholding on Dartmoor, that the idea for Devon Duvets was born. Initially making wool products from their own flock of sheep, they then approached local farmers to see if they could help them by using their fleeces too.
Alongside this process, Dick and Pauline, were looking into how their products could be made as sustainably, carbon-efficient and ethically sourced as possible. They knew they would only ever be committed to using British wool, gathered from their selected farmers, who they knew had the highest standards of animal welfare - and who had sheep with the right kind of high quality, springy fleeces that made the perfect wool filling.
Huge efforts were put into researching the best way to wash and process the wool in British mills, to create a wool filling that was chemical free. This meant the wool fibres would retain as many of their wonderful natural properties as possible. Equally rigorous research was put into finding exactly the right kind of sustainably produced cotton, certified by Better Cotton, that could be woven into cotton fabric to make the most luxurious duvet casings. The design of the duvet was also key as they wanted a duvet that draped around the body. After much trial and testing, they achieved this.
The end result? The UK's first 100% British made, individually handcrafted, authentic 100% British wool duvet. Beautiful duvets that are totally natural, sustainable, and chemical free but also have a fabulous drape to create the most blissful sleeping environment. Handcrafted British wool mattress toppers and pillows soon followed, along with a specially created range of British wool bedding for children.
Dick and Pauline had always felt that there had to be even more to the Devon Duvets experience, and this extended to finding sustainable packaging and being committed to the highest levels of customer service. It wasn't enough to just sell duvets, they wanted their customers to be able to discuss their sleep needs to see what the best options for them might be.
In the early days, everything was initially produced at Dick and Pauline's farm, but it soon became apparent that demand was such that it prompted the move to a larger, dedicated premises, located between the outskirts of Plymouth and the edge of Dartmoor. This is where all of us in the Devon Duvets team are still based today; everyone - including the seamstresses, packers, dispatchers and all the admin support. This means we can manage the entire process from liaising with suppliers to making the products to dispatching them to customers - from one place. It also means that if our customers have any special requests, our customer sales team can just walk a few yards into the crafting area to chat to the seamstresses.
Fifteen years later and Devon Duvets crafts a range of award-wining products made from British wool, British alpaca and a 100% plant-based range, Botanic. We can't share our birthday cake with you, but we hope you'll still celebrate with us. So…we're offering a special birthday promotion of 20% off our duvets, toppers and pillows*. Just use the code 15YEARS when placing your order on our website. Offer applies until 17th August 2023. *Exclusions apply.