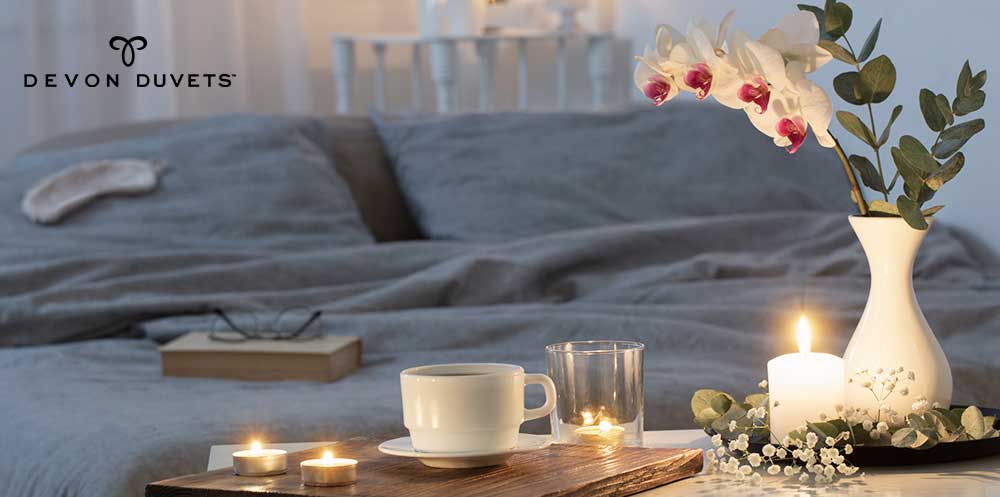 Spring is here and there are lambs in fields around Devon and on Dartmoor. If that isn't enough to make you smile, then the lengthening hours of sunlight are always welcome and gives us a sense of wellbeing.
Our entire focus is on how we can make products that help people to sleep better. We often talk about Wool Wellbeing, amongst the Devon Duvets team at our workshops, as well as on our website – and it's something that is deeply ingrained in everything that we do.
What is Wool Wellbeing?
This encompasses why wool has so many benefits, the thought behind the design of our products, how we strive to source our materials in the most ethical and responsible way possible, right down to the way our products are individually handcrafted, here in Devon. This holistic approach has been unique to us since before we even started selling our beautiful wool filled duvets and is explained below.
Why does wool make wonderful bedding?
Wool is an amazing natural and sustainable fibre that is breathable, temperature regulating and moisture wicking. This means that it works with you to keep your core body temperature balanced throughout the night. It's also resistant to dust mites and the build-up of micro bacteria, so is more hygienic and also good for those who have dust mite allergies. All this adds up to a better night's sleep and that's good for our mental and physical wellbeing.
Why is ethical sourcing important?
When a product is made with materials that are ethically and responsibly sourced, then the product reflects these values, creating a sense of wellbeing for you, our customer. It's good to know that our wool is authentic traceable 100% British wool, certified by British Wool and from British sheep farmers, who we know have the highest standards of animal husbandry when it comes to their flocks. We also make sure that they receive a fair price for their fleeces, when their sheep are shorn in the Spring and Summer to relieve them of their heavy winter overcoats. We only use wool from live sheep, and they regrow their fleeces in time for winter. That makes it a truly sustainable fibre. We want to make sure that the natural properties of our wool are kept intact, so we don't use any chemicals when our wool is washed in our specially selected British mills. That makes it better for you - and the environment. It's also reassuring to know that the cotton casing on our duvets is made from cotton that is certified by Better Cotton – a global organisation that encourages and supports better environmentally friendly and socio-economic cotton farming practices.
What is special about the Devon Duvets design?
Devon Duvets created the original British wool duvet to be individually handcrafted in the UK and our design goes back to 2008. Our wool is needled by the mill to our very exacting and unique specifications, to give as much loft as possible to the wool and creating soft and fluffy layers. Once the wool has arrived at our workshops, it is cleverly stitched into the cotton casing in a way that allows the duvet to drape around you and feels especially cosy and comforting. We've worked hard to get it just right – too much stitching (as in some traditional box stitched duvets) and you lose the benefit of the loft in the wool, ending up with a more rigid wool duvet that doesn't drape well.
Why is handcrafting key to the final product?
Our seamstresses are experts in crafting wool duvets, and they are all based in our own workshops on the edge of Dartmoor. Handcrafting our duvets on our special sewing machines, means our seamstresses are constantly checking that the quality is consistent throughout every stage – from the laying up of wool layers between the fabric, right through to the final stitching and binding, to ensure the perfect drape. We believe that when you put care into a product for a customer, it adds to the sense of wellbeing when the customer tucks up in bed for a good night's sleep. Handcrafting each product individually also means that we can make bespoke sizes. This is because we measure and hand cut our cotton fabrics and wool layers to size, using traditional tailoring scissors, and then make any special adjustments, as required by our customer.
Why is buying a Devon Duvets wool duvet a sustainable choice?
With more and more of us wishing to make responsible choices when purchasing items, it feels good to know that your Devon Duvets wool duvet is made with natural and sustainable materials that are sourced with the aim of keeping our carbon footprint as low as possible. Even our building is especially eco-friendly, with high performing insulation and air to air heating systems. You can also be confident that you are purchasing a product that is 100% British made.
If you'd like to know more about our individually handcrafted British wool products, then please contact the team by calling 01752 345399 or via email.