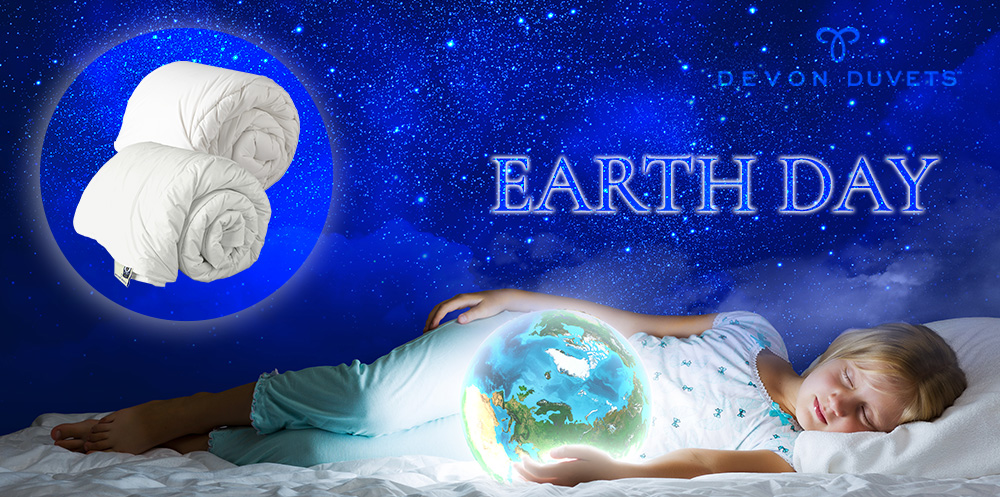 It's Earth Day on Saturday, 22nd April 2023 and this event dates back several decades. The first Earth Day was in 1970 and, every year since, this date has marked the anniversary of the birth of the modern environmental movement. Engaging 75,000 global partners in 192 countries Earthday.org aims to empower individuals with the information and tools to drive environmental changes that will help protect our beautiful planet.
Being committed to the environment through individually handcrafting natural, sustainable products has always been at the heart of everything we do at Devon Duvets. In fact, it goes back to before the time we even started making our luxurious soft bedding products, here in our workshops on the edge of Dartmoor. When the idea for creating the UK's very first authentic British wool duvets was just a twinkle in the eyes of our founders and owners, Dick and Pauline Beijen, they had already made the decision that they would not develop products unless their own personal commitment to sustainability was incorporated into every element.
Making eco-friendly sustainable products is just one half of the equation though. The rest is down to our dedication to responsible sourcing and a low carbon footprint – values which also extend to those who supply us with materials and support our processes. Here's how we do it:
WE SUPPORT BRITISH FARMERS
We only use 100% Traceable wool from British sheep farmers who adhere to the strictest animal welfare laws in the world. We also source high quality, springy, white wool from a unique grade bought and certified through British Wool to ensure quality and consistency across our products. The wool is sheared from live sheep throughout Spring and Summer when the sheep need to lose their heavy winter fleeces. The wool regrows again in time for Winter so is a truly renewable and sustainable fibre. We worked closely with British Wool in the creation of their Traceable Wool Scheme which ensures that the farmers wool in the scheme receive a higher than market value price for their wool. This means that we can continue to support the livelihood of our farmers and they can continue to provide us with the high-quality fleeces that we need to create our products.

OUR WOOL IS WASHED AND PREPARED BY BRITISH MILLS
Using British mills means that we are keeping our carbon footprint as low as possible. What's more, we want our wool to retain as many of its wonderful natural properties as possible and that's why we don't clean our wool with chemicals. Instead, it is thoroughly washed and is so lovely and clean after the washing process that it gets a sterilisation certificate to show it is suitable for use in bedding products. The wool is then needled to our exacting specification into soft, fluffy layers, ready for our seamstresses to turn into our award-winning duvets, toppers and pillows.
OUR SOFT BEDDING PRODUCTS ARE 100% MADE IN DEVON...AND IN OUR OWN WORKSHOPS
Because we make everything here in Devon, this keeps our carbon footprint down. Casings and fillings are individually hand cut and stitched, ensuring minimum wastage during the crafting process (see below about our zero-waste policy).
OUR COTTON CASINGS ARE MADE FROM MORE SUSTAINABLY PRODUCED COTTON
The high thread count 100% cotton fabric we use for our casings comes from mainland Europe, which helps us to keep our carbon footprint down, and also enables us to ensure the highest quality through constant monitoring of the weaving process. Woven to our strict specifications, our duvet and pillow casings are made from cotton that is certified by Better Cotton, a global initiative that supports and promotes better environmental and socio-economic cotton farming practices.
OUR PRODUCTS ARE ENERGY EFFICIENT
Our aim is to help our customers to experience better sleep and the way we've designed our products is focused on achieving this. For example, our duvets are crafted in a way to drape around you for a blissful experience. They work with your core body temperature to keep it balanced throughout the night. For those who live in very chilly properties, or who want to turn their heating down (or off!), we've created a special Extra Warm wool duvet for the colder months. Our lightweight wool duvets are perfect for those who live in well insulated properties that keep a consistent temperature and are also suitable for the warmer months of the year.
OUR PACKAGING IS ECO-FRIENDLY
We are constantly working on new ideas for our packaging, to ensure it is as eco-friendly as possible.
WE HAVE A ZERO WASTE POLICY
Any scrap wool (i.e., small pieces that may have fallen to the floor) is used for compost. Wool trimmings can be used for some of our smaller products. Cotton trimmings are collected by another UK business and are used for making the linings for household gloves. Old pallets are used by a local business that upcycles them to make garden furniture and other household items. All other waste is responsibly recycled by a waste management contractor.
WE SOURCE LOCALLY WHEREVER POSSIBLE
This includes our wool, labels, office equipment/supplies, printing, packaging and our partnerships with our web designers and IT support teams.
OUR PREMISES IS ENERGY EFFICIENT
Everyone in the Devon Duvets team, including our seamstresses, customer services and admin, dispatch and warehousing, is situated in our own modern, well insulated building. We also use air exchange systems for heating. Lighting is energy efficient LED. The carpets in our offices are made from wool and were woven for us by a family run, UK carpet manufacturer.
If you would like to know more about our eco-friendly, natural and sustainable soft bedding, then do get in touch with the team via email or by calling 01752 345399