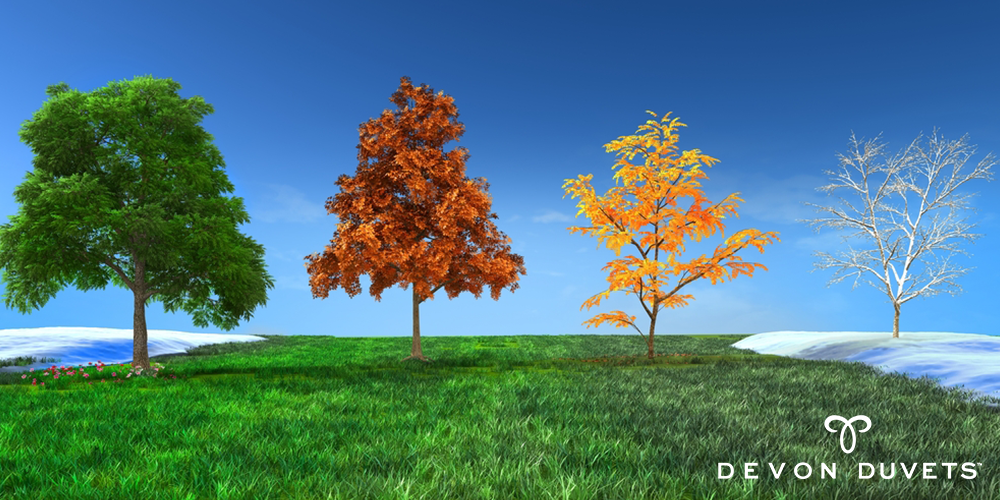 Our customers often ask us for advice on choosing the perfect duvet. It's no wonder really; your 7 - 8 hours sleep is very important for your health and well-being and it is surprising how many people struggle to get a good night's sleep, without realising that their choice of duvet is a major factor. You need to consider what duvet works well with not just your body temperature but also the temperature of your bedroom. Here's some helpful information, taken from 'often asked' customer questions, to help you decide what works best for you:
 Why are duvets made from natural materials going to help me to sleep better?
First and foremost, a duvet made from natural products is going to be far better at temperature regulating that one made from synthetic materials. Synthetic materials are not naturally breathable so are unable to adapt to your changing body temperature. So, it's good to know that all of our duvets are made from ethically-sourced, 100% natural materials, including  our certified 100% British wool duvets, plant based, vegan-friendly Botanic range and our Mulberry silk duvets, all of which will help to keep you warm when you are cold and vice versa. What's more, all the materials we use in our duvets are ethically sourced and 100% sustainable so are eco-friendly. Neither do we use glues, bonding agents or artificial fibres so there is nothing next to your skin other than what nature intended.
What is the best duvet for a warm bedroom?
As your body prepares itself for sleep, your body temperature will drop slightly. However, if you are living in a city (which tends to be warmer than in rural areas) or in an apartment block (where you are surrounded by the heating from other homes), or you prefer to keep your bedroom heated all night, it does make it harder for your body to self-regulate and go into sleep mode. You might also be dealing with the dreaded 'night sweats'. In all these cases, you would probably find that a lightweight wool or lightweight Botanic duvet is suitable for you to use year-round. Our lightweight duvets are also perfect if you just need something a bit lighter for summer and we have achieved Best Summer Duvet awards for our wool and our Botanic duvets.
What is an 'all seasons' duvet?
An 'all seasons' duvet does pretty much what it says on the tin! We have various options for you to consider, including our medium weight wool duvets or our 100% Mulberry silk duvets. Additionally, our lightweight Botanic duvets have been so popular that we've now developed a medium weight version, suitable for year-round snuggling. Again, you need to consider the temperature in your bedroom and, of course, everyone's natural body temperature when they sleep is unique to them. 
What if I need a duvet that keeps me extra cosy in the Winter months?
If you live in an area where Winter temperatures can drop dramatically, or if you prefer to keep your heating off in your bedroom, plus keep your bedroom window open (even if there is a howling gale outside!), then a good option is a medium weight wool duvet, with a lightweight wool duvet added. Our wool duvets come with ties, so that you can put them together – or not – thereby giving you the flexibility to change the thickness of your duvet as often as you want.
Naturally hygienic…naturally easier to get a good night's sleep
Duvets made from 100% natural materials are much more hygienic. This is because they are breathable and can therefore resist the build-up of micro bacteria – the cause of allergens that exacerbate asthma and skin disorders such as eczema. To refresh your duvet, just hang it up to air, whenever it's time to change your bedlinen.
Last but not least…
We take enormous pride in the quality of our products. All the products in our wool and Botanic ranges are individually handcrafted by our professional seamstresses at our Devon workshops. Our silk duvets are transported, rough stitched in a soft cotton casing to protect the silk, to our workshops, where they are individually hand finished. 
If you would like any further information, the team are on hand to answer any queries and can also chat to you about our mattress toppers, pillows and luxurious natural Pima cotton bedlinen. Just get in touch by calling 01752 345399 or send us an email.