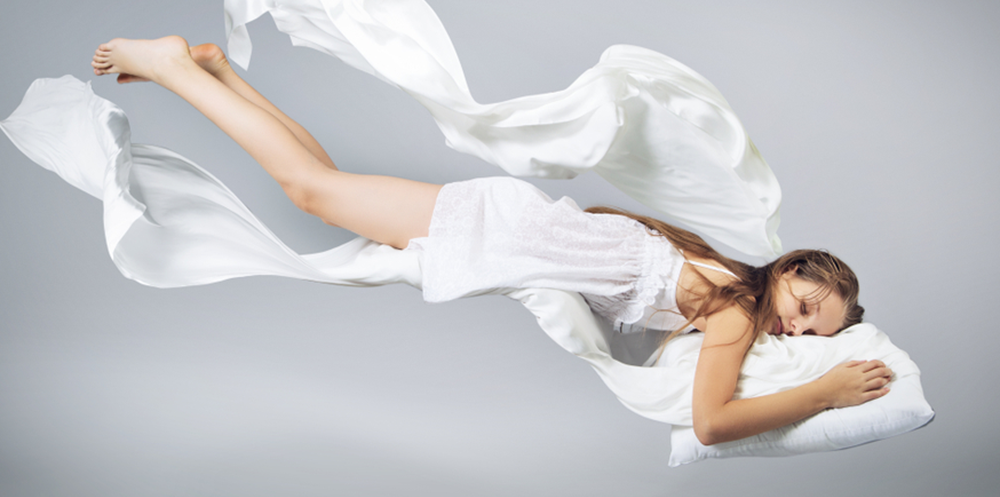 To ensure a comfy night's sleep, it's important to have a pillow that gives you proper support – and we know that once you've found a special pillow that's just right for you, it's very hard to sleep on anything else.
What is the right height pillow for me?
First of all, you need to find one that is the right height for the way you sleep. If you are a side sleeper then, ideally, you will need to look at a pillow that's medium to firm and high enough to fill the gap between the mattress and your head. The pillow also needs to keep your spine as straight as possible, to avoid neck pain. If you are a back sleeper, then opt for a fairly firm pillow to support your neck but one that doesn't push your head too far forward. If you are someone who likes to sleep on their stomachs, you'll need a softer, lower pillow to avoid your head being pushed back and putting strain on your neck.
What is the best kind of filling for a pillow?
Fillings that are made of 100% natural materials are breathable, so are more hygienic than synthetic blends that tend not to be moisture-wicking whilst you sleep. There are many different kinds of pillow fillings out there but if you are after one that's 100% natural, then wool is a terrific option. Wool is resistant to dust mites, so is perfect if you suffer from allergies such asthma or eczema. Wool is breathable and has moisture-wicking properties, so it is resistant to the build-up of micro bacteria.  A good, regular, airing helps to keep the wool nice and fresh. Wool is naturally fire retardant too.
Is there more than one type of wool pillow?
Most wool pillows are made by enclosing loose wool inside a completely sealed and stitched casing. However, at Devon Duvets, we make two types of pillows – our Original wool pillow and our unique, patented Folding wool pillows.
Our Original wool pillows are well stuffed with 1kg of springy, loose wool and we put a zip in the casing so that you can remove some of the wool if you want to make the pillow a bit lower and softer. This is a great option if you want a pillow that you can specifically adapt to your preference in terms of height and softness.
Our Folding pillows are made in a patented design and come in three choices. Each pillow is made of sections that you fold up to create a standard size pillow. You can see how they work, by watching our video. If you're not sure which one to choose, then see our guide below:
Our 2-fold pillow comes in two sections and is best for those who want a lower, softer pillow or who sleep on their front.
The 3-fold option has three sections, is a medium pillow and is about the same height as a regular pillow. This is good for side sleepers or if you like to sleep on your back.
The 4-fold pillow has four sections and is best for those who like a firm pillow with extra support. These are best for side sleepers.
If you like a bit of extra support for your neck, you can roll up one of the sections to create a 'sausage' shape that will tuck nicely into your neck. You can do this, irrespective of the folding pillow you end up choosing.
All of our wool pillows should be used with a pillowcase to ensure longevity. Check out our advice on bedlinen further down!
What makes a Devon Duvets pillow so special?
We only ever use certified 100% British wool, which is world famous for its quality and also means that we are supporting British farmers. Our wool is washed in British mills without the use of bleach or chemicals, so you're getting a pillow that's 100% natural and also good for the environment. We only use beautiful 260 thread count 100% natural cotton for our pillow casings.
Each and every one of our pillows is lovingly and expertly handcrafted by our brilliant seamstresses in our Devon workshops. When we send your pillow, it will come with a note from the seamstress who made your pillow for you, plus a little bag filled with English lavender, for your linen cupboard.
So now I've got my pillow, what kind of bedlinen should I use?
Always opt for bedlinen made from natural materials wherever possible. Natural materials, such as 100% cotton are soft and breathable, unlike polycotton blends which don't feel as soft and are also not breathable so can make you feel hotter in the warmer months.  By combining a 100% natural cotton pillowcase and a 100% natural pillow, you'll only have what nature intended next to your skin. We'll just mention at this point, that if you buy one of our pillows, we have a special 50% off promotion on our luxurious 450 thread count, 100% natural Pima cotton pillowcases, when purchased at the same time.
You can find out more about our pillows by visiting our website but if you have any questions or need any further guidance, then just get in touch and we'll be happy to help!