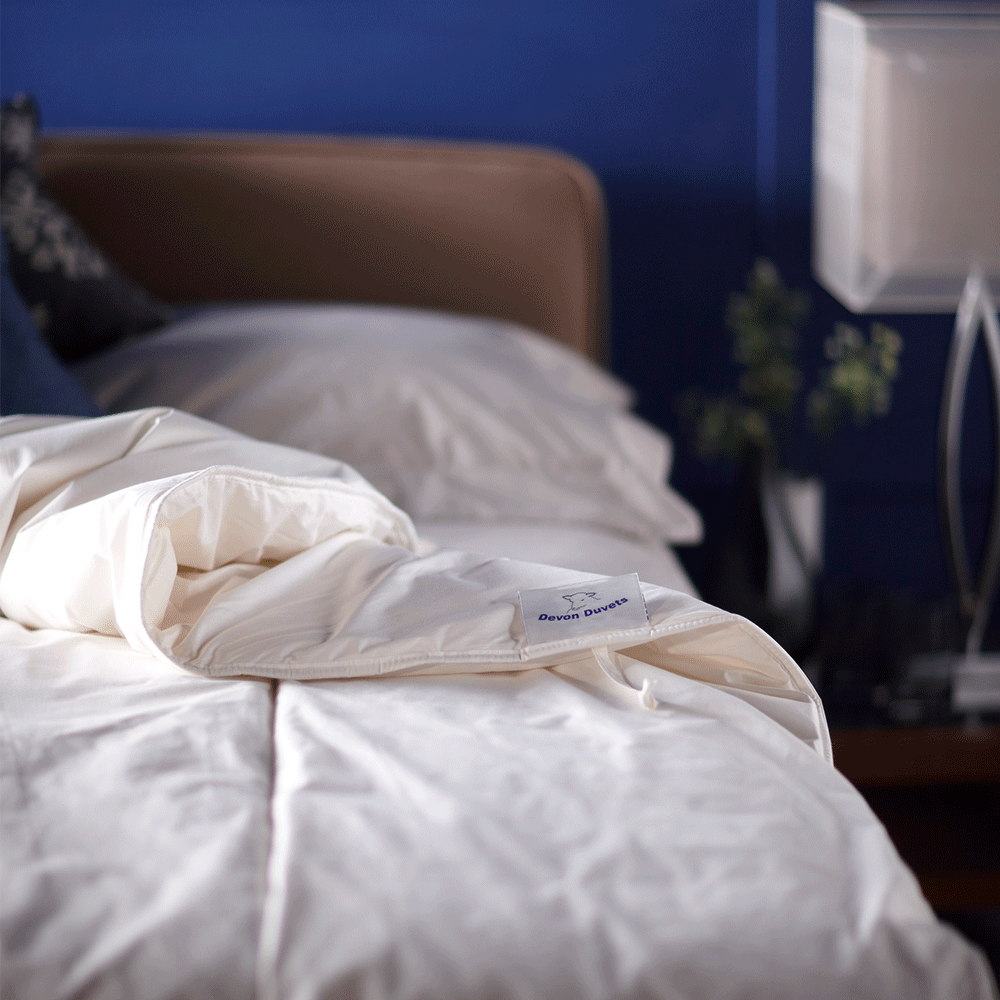 What makes the best hypo-allergenic duvet?
According to The Sleep Council*, allergies affect over 21 million adults in the UK and 59% of 'indoor' sufferers say that their symptoms feel worse in their bedroom. This is because house dust mites are amongst the most common triggers for an allergic reaction – and one of their most favourite places is in your bed!
The most common type of duvets available for allergy sufferers are made from polyester and other synthetic fibres; not ideal at a time when we are becoming increasingly aware about eco-impact and the need to source sustainable products.
At Devon Duvets we've spent years in developing the perfect natural alternative and are understandably proud of our handcrafted wool duvets. We only use 100% Certified British Wool, from fully ethical and traceable sources and do not use bleach or chemical treatments during the process of preparing the wool for the filling of our duvets. 
But why are our wool duvets so perfect for allergy sufferers? Well, most importantly, wool is hypo-allergenic and has unique natural properties that resist dust mites. This helps to alleviate the symptoms of allergies or asthma and, thereby, aids a a good night's sleep. 
Additionally, if you have particularly sensitive skin because of your allergy, our natural wool duvets are encased in beautifully soft, 260 thread count 100% cotton, so you'll be wrapped from head to toe in comfort. There are no artificial fibres, materials or bonding agents in our natural wool duvets, so you won't suffer irritation as a result of having a non-natural product against your skin whilst you sleep.
Wool is a marvellous temperature regulator because it is naturally breathable so helps you stay warm in winter and cool in summer, again helping to alleviate allergy symptoms triggered by sudden temperature changes.
Our wool duvets are also very easy to care for and because wool is naturally anti-bacterial, they can be refreshed by airing. If you want to do a more thorough clean then you can machine wash them on a wool setting, using a wool care product, spin and then air dry.
Fully sustainable and environmentally responsible, every natural wool Devon Duvet is individually handcrafted by our experienced seamstresses in our Devon workshop and you can choose from a variety of sizes, from Single to Emperor. We also make a special cot bed size for children.
To buy your hypo-allergenic,  natural wool duvet click here.
*The Sleep Council was established in 1995 and is an important organisation that looks at how we can adopt healthier sleep habits.