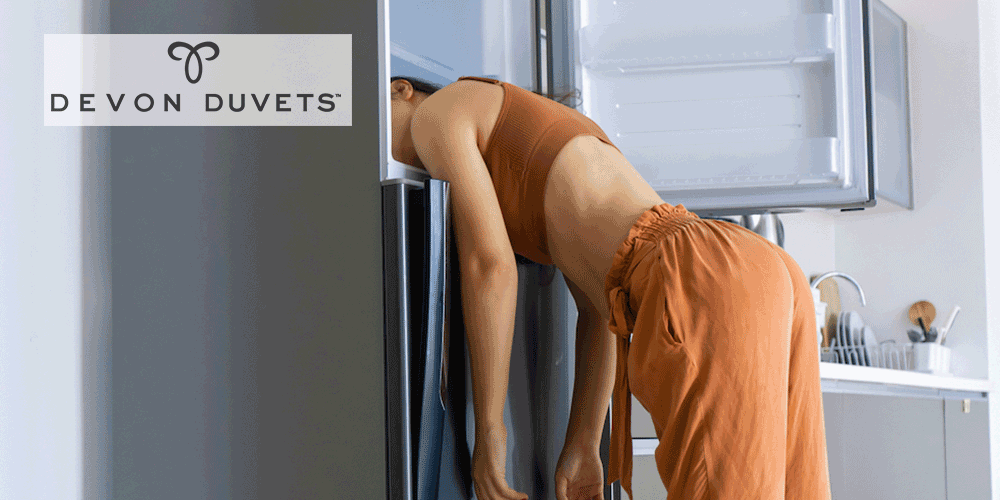 New research, conducted by British Wool to mark its 'In Bed With The Menopause' campaign, found that 65% of women didn't know the menopause could affect sleep until going through it. The research also looked at the wider effects of the menopause and the symptoms women were experiencing.
These included hot flushes (68%), night sweats (62%), difficulty sleeping (58%) and experiencing low mood or anxiety (53%). Lack of sleep was highlighted as a big issue in terms of the impact it could have on daily life, causing a feeling of exhaustion all the time. Those taking part in the research said they had tried various ways of tackling the problem, including sleeping with the window open, sleeping naked and trying lavender pillow spray. However, eight out of ten (81%) had no idea that using wool duvets, pillows and toppers can help regulate the body's changing temperature, and therefore help with sleep. Wool is breathable and so can dissipate heat and, although it can't stop flushes, can help to manage them so that you don't keep waking up.
British Wool's Head of Sleep, Julia Robinson, said that British Wool's research had shown that many women still suffer in silence but that making small changes, like using wool bedding can help. Diana Danzebrink, founder of the not-for-profit community interest company, Menopause Support, said that everyone in the UK will be affected by symptoms of the menopause at some point in their life, whether that's directly or indirectly. She added that there are over thirty psychological, cognitive and physical menopause symptoms, many of which can be debilitating for some. She stressed the importance of educating ourselves and each other to ensure that those experiencing menopause don't feel alone.
The research also revealed the top life lessons according to women over fifty and what they would like to share with the younger generation. Top of the list was to make time for the things you enjoy (59%), followed by the advice to stop trying to be perfect because it doesn't exist (57%). Other pearls of wisdom included not comparing yourself to others (48%), appreciating the little things in life (46%), staying in touch with old friends (43%) and that a relationship takes work. (41%). Well over a third (40%) said not to be a slave to the scales and 27% that life's too short not to eat carbs. 36% of those polled said that although menopause can be tough, you will get through it and 35% said nothing is as bad as it seems.
There were also positive elements to the research, which revealed that 36% of women polled said they are more comfortable in their own skin since turning 50 and more than half believe that 50 is the new 30! Many women felt that the age they felt their happiest, sexiest and healthiest wasn't at 21 or 30, but at 52.
All of this goes to show the importance of research, not just in identifying issues within menopause but also for highlighting positive aspects of getting older, through education and shared experiences.
At Devon Duvets, we regularly talk to customers who are going through this time in their life and some of the team even have first-hand experience themselves. We are happy to spend time in finding out how we can help by recommending a change to wool bedding and which options might best suit your needs. If you'd like to find out more about how our individually handcrafted British wool duvets, toppers and pillows could help you, then call on 01752 345399 or get in touch by email.
Ref: British Wool