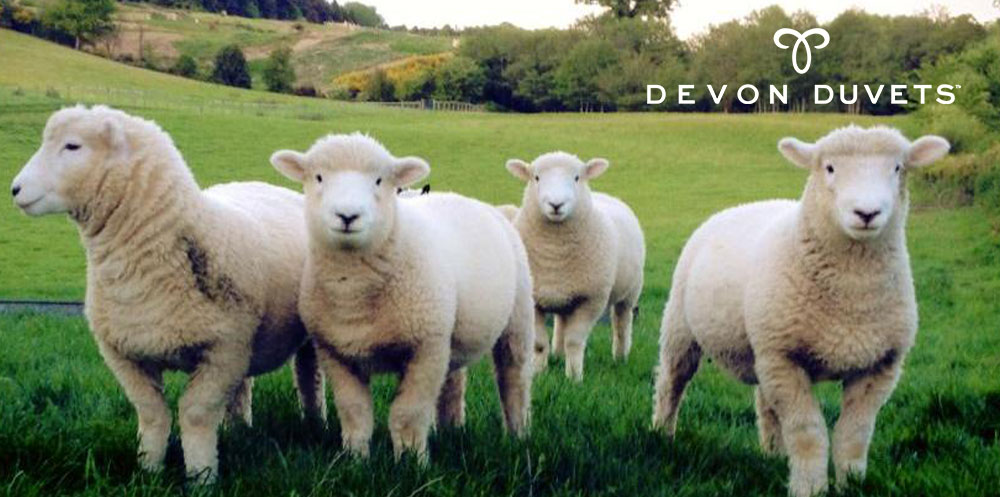 How it all began
Back in 2008, when our founders, Dick and Pauline, first started thinking about creating Devon Duvets, they knew they wanted to craft products from British wool. Not only has British wool been famous for over 2,000 years for its quality, but British sheep farmers adhere to the highest standards of animal welfare in the world.
At that time, Dick and Pauline had their own flock and it wasn't long before they started talking to other local farmers about using their wool to make wool duvets. The result…the creation and launch of the first 100% British made, British wool duvet, specifically designed to help people to sleep better, and individually handcrafted by expert seamstresses in our own workshops on the edge of Dartmoor.
Launching a special and new wool duvet collection
Our commitment to supporting British sheep farmers will always be at the heart of Devon Duvets - and our wool is still gathered from farmers we know from across Devon and the Southwest. We are therefore very proud to launch a new duvet collection to add to our award-winning British wool duvets range: our Limited Edition Rare Breeds Wool Duvet. For our first duvets in this range, we have chosen to use wool from flocks of Devon Closewool sheep, owned by farmers passionate about the breed.
Why we have chosen the Devon Closewool sheep
Once widespread across North Devon, with flocks owned by generations of farming families, this lovely, thick woolled, heritage breed has sadly declined in recent decades as the farmers struggled to obtain a good price for the fleeces. After meeting two members from the Devon Closewool Breeders Society, Dick and Pauline decided, as a Devon based family business, that they wanted to find a way to help towards safeguarding this important local breed and support the farmers who love these special flocks. Working closely with farmers in the Devon Closewool Society, we were able to gather enough wool to launch our new collection.
Helping to protect the Devon Closewool breed
As with all the wool we use for our products, the fleeces from the Devon Closewool sheep are known for their high quality, and are fully traceable, under the British Wool traceability scheme. By including them in the scheme, this ensures the Devon Closewool farmers will receive a higher than market price for their fleeces, as do all the farmers who supply us. This allows them to sustainably maintain and grow their flocks and produce more wool to make duvets. By creating this range, we are also highlighting the value of wool from rare breeds.
Additionally, and to offer further support, we have teamed up with the Rare Breeds Survival Trust and each Devon Closewool duvet sold will generate a donation to the important work of the Trust.
More choice for our customers
Sustainability is at the core of everything that we do at Devon Duvets. This includes responsible sourcing to ensure the materials we use to craft our products are natural and sustainable. When a customer chooses one of our products, they are joining us on a journey that began over 15 years ago – one that offers individually handcrafted products that are not only luxurious and helps them to achieve a better night's sleep but are also eco-friendly and help to keep our carbon footprint lower. That's why we only ever use British wool and why no part of our products are prefabricated or made on large roller machines, either in the UK or overseas.
We are proud of our products, and the love and care we put into every stitch - and are delighted that our customers feel good about the responsible choice they have made through buying one of our products. Our new Rare Breeds collection offers further responsibly sourced and crafted choices to our customers and helps to secure the future of a British heritage breed.
Our Rare Breeds range can be found here - but you would like to know more about any of our natural and sustainable bedding products, then please do get in touch by email or by calling the team on 01752 345399.