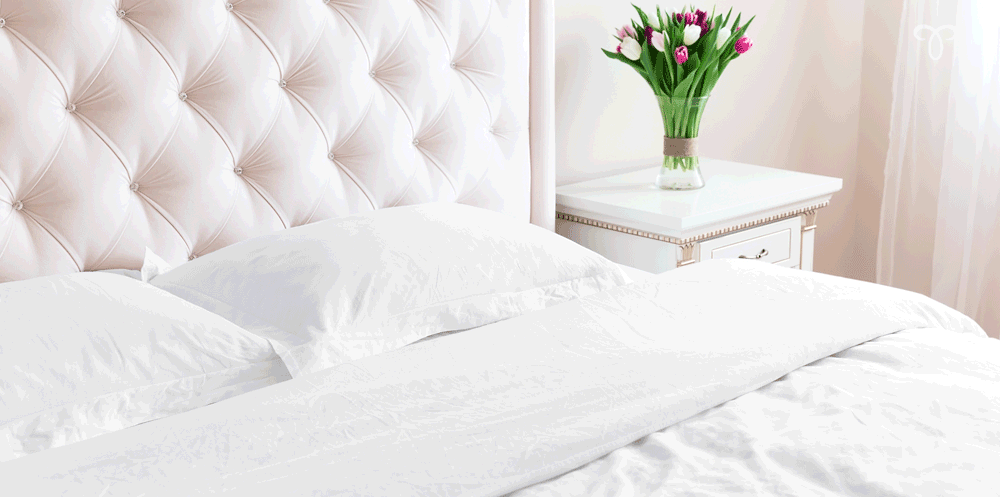 Spring cleaning tips to keep your bedroom fresh
A good Spring Clean can be very satisfying, especially as you will benefit from the results! So, gird your loins, get out the duster and vacuum cleaner and check out our tips for a great bedroom Spring Clean.

Start with a 'deep clean'…

Always start high and finish low, this ensures any dust floats down so you can catch any loose bits by vacuuming later.
Dust corners, ceilings and light fixtures, using a very slightly damp cloth and work down to ground level, including picture frames, mirrors shelves and any other surfaces. Mop your wooden floors and thoroughly scrub the carpet in your house.
If you have free standing cupboards, then try to give the tops a good wipe if you can safely reach them - there are long handled dusters readily available if not. Then dust any bedside tables and chests of drawers. Be sure to clean out any old clothes you no longer wear.
If you can, then move any smaller items of furniture to get behind them. If you want to polish wooden bedroom furniture, make sure you use a polish with beeswax and a non-silicone variety, as the most commonly used household polishes contain silicone, which can strip away wood veneers. Finish up with a thorough vacuuming, wash stains from skirting boards and give your carpets a good clean.

Wash, Declutter and reorganise…

This will help to create a calm, tidy place for those all-important hours of sleeping. Part of this can be re-thinking whether you really want that TV in the bedroom, as a distraction to falling asleep.
Most health experts advise that you avoid using electronic and digital devices an hour prior to bed because the light from the screens can negatively impact on your sleep.
Pack away winter coats and clothes but make sure everything is clean if you are storing in a vacuum-packed bag or box with lid. Only vacuum pack clothing that can be folded, rather than 'delicates' or clothing that might crease.
If you have one of our medium weight wool duvets and are swapping for our lightweight wool duvet then roll it up and store in a cool (not cold), dry place, away from condensation or humidity. We do not recommend vacuum packing our duvets.
Let in some air when you spring clean…

Having fresh air in your bedroom is healthy, so open those windows if you can for a bit of blow through. It's also important if you've been using cleaning products. When the weather is warmer try to leave the windows open for a few hours each day when you are at home.

Clean your mattress…

It sounds unpleasant but needs to be said – mattresses are a breeding ground for dust mites and germs so do make time to clean it. It's easy to do, and you can always ask someone to give you a hand.
Remove all the bedlinen from the bed and use the upholstery or small brush attachment on your vacuum cleaner to vacuum your mattress, making sure you do both sides. You might also want to think about getting a mattress topper.
These add an extra layer of comfort and can help to lengthen the life of your mattress and can be aired regularly to keep them fresh.

Our award-winning wool mattress toppers are individually handcrafted, here in Devon, with authentic traceable 100% British wool, encased in soft 100% brushed cotton. They are resistant to dust mites and micro-bacteria.
Regular turning helps to ensure even settlement over time, and we advise regular airing. There's one other key benefit - if you currently have a memory foam mattress, you may find that it traps heat and makes you feel hotter in the warmer months. A wool topper has the added benefit of helping with temperature regulation because wool is breathable.

'Spring clean' your bedding…
It's not just bed linen that needs changing but soft bedding items, such as duvets and pillows, need replacing every so often. You might just be swapping your winter duvet for a lighter one, but you also might want to consider treating yourself to fresh new bedding if you've had yours for a few years!
Soft bedding made from natural materials is generally better than those made with synthetic materials because synthetic materials tend not to be breathable and can trap heat.
Our wool duvets and pillows are individually handcrafted in Devon, using authentic traceable 100% British wool, encased in beautiful 100% cotton that's certified by Better Cotton.
As mentioned above, wool is naturally resistant to dust mites and the build-up of micro bacteria so is hypoallergenic and more hygienic. Regular airing will help to keep the wool nice and fresh.