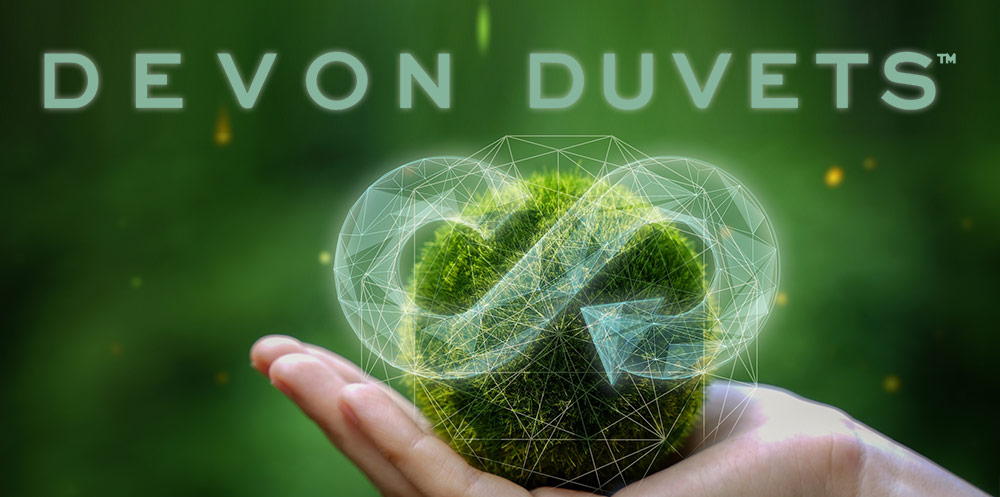 We're all reading and hearing a lot about sustainability and how it can help our beautiful planet. However, we know that 'walking the talk' is more important than just merely 'greenwashing'. Our commitment to sustainability has been the founding principal of everything we do - from the inception of Devon Duvets over 15 years ago. We've always offered our customers individually handcrafted products that are natural and sustainable, created to help you sleep better and are more eco-friendly.
How does Devon Duvets make sustainable bedding?
When our founders and owners, Dick and Pauline first came up with the idea for Devon Duvets, they decided they would not make any products unless they could be sure that whatever they made would be crafted from sustainable materials and in a sustainable way.
Sustainable bedding fillings: Dick and Pauline wanted to help people to sleep better. Starting with wool from their own flock of sheep on Dartmoor, they came up with an idea for the UK's first 100% British wool duvet, individually handcrafted in the UK. They also started talking to other local farmers, who were struggling to sell their fleeces, to see if they could help by using the wool from their flocks. Wool is a wonderful natural and sustainable fibre because sheep need to be shorn each Spring or Summer to relieve them of their heavy winter fleeces. The fleeces grow back in time for the Winter, ready to be shorn again the following Spring or Summer. To this day, we still get our wool from Devon and Southwest farmers, many of whom we know – and we also know they adhere to the highest standards of animal husbandry. Our other fillings include 100% British alpaca wool and our 100% plant-based range, Botanic, which contains TENCEL™Lyocell fibres created, through an eco award-winning process, from sustainable wood sources.
Sustainable fabric casings: Pauline spent months researching the best kind of cotton fabric to use for encasing the wool filling – and as with all our activities related to sustainability - this is an on-going process. Cotton is a 100% natural fibre that works well with wool's breathable and temperature regulating properties. Unfortunately, cotton does not grow on Dartmoor (or the whole team would be up there picking it!) so it had to come from overseas. Over the years we have been able to find cotton fabric closer to home, which has reduced our carbon footprint. Our cotton fabric, which is woven to our strict specification in Europe, is made from cotton fibres that are certified by Better Cotton. This global initiative supports and encourages more sustainable ways of growing cotton and also supports better socio-economic cotton farming practices and communities.
Devon Duvets and our sustainable business operations
At Devon Duvets, our business operations are built on a clearly defined strategy to maximise sustainability and minimise our carbon footprint.
Responsible and sustainable sourcing: We are committed to responsible and sustainable sourcing, and this extends to all our suppliers, whom we choose because they share our values. We have been ethically audited by SEDEX (you can read more about this in one of earlier blogs). We also use local businesses to make our recyclable packaging, for stationery and office equipment, IT support and other professional services (such as our accountants).
Energy-efficient premises: All of our day-to-day business activities and staff are in one purpose built, energy-efficient building. This includes our seamstresses (who individually handcraft our products), packing and dispatch teams, quality control and customer services. Insulated to the highest standards, we also use air to air exchange systems to warm the building in the extra cold months.
Lower carbon footprint: Our duvets, toppers and pillows are individually handcrafted on specialist modern sewing machines that are efficient and easy to repair. We also have a low carbon footprint because our products are individually handcrafted, in our own workshops, rather than being partially or fully prefabricated on the more traditional, energy hungry 'roller machines', in large scale manufacturing units, either in the UK or overseas.
Devon Duvets and the Circular Economy
What is a 'circular economy'? A circular economy focuses on resource cycles, based on sustainable sourcing, eliminating waste, re-purposing materials and regenerating nature. At Devon Duvets we have a Zero Waste policy but our commitment to achieving a circular economy goes beyond this policy.
Natural product sourcing: Wool is a natural and sustainable fibre – that is regrown by sheep and alpacas every year. So, every year we are using a fibre that will be continuously provided in a natural way. Cotton is also a natural fibre and the cotton used in our cotton fabric is grown using less water. Our 100% plant-based filling comes from sustainable FSC wood sources.
Resource cycles and re-purposing: For example, roll ends of wool are hand fluffed to create special products, such as our Heart Shaped Comfort Cushion, which is designed to help in recovery from breast cancer surgery. We also use this hand fluffed wool for our cushion pads and our pet bed range. Cotton roll ends are used to create our bindings and duvet ties, and cotton offcuts are collected and used as natural linings by a company that makes household gloves.
Eliminating waste: Our scrap wool is collected and composted and, because our wool is not treated with any chemicals, it breaks down releasing valuable nutrients into the soil. Dick and Pauline have grown some very healthy vegetables and plants over the years by composting our scrap wool! What's more…because our products are natural, sustainable, and chemical free, they won't clog up landfill for decades when the time comes to eventually replacing them but will biodegrade quickly and without causing harm to the environment. If you're a keen gardener, you can use our fillings for compost. If you then use that compost for bee-friendly or other pollinator-friendly vegetables or plants, then you are helping nature too. You can also put a few bits of the filling in a bush or tree in your garden and birds will take it and use it for their nests!
If you require any specific information about our sustainable products or would like help in choosing the right product for your sleep requirements, please do get in touch by email or by calling the team on 01752 345399.