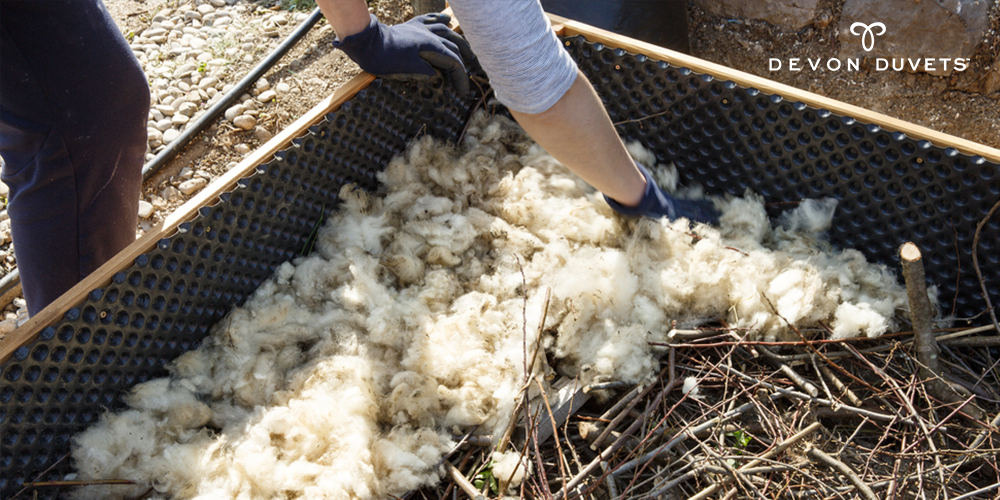 Here, at Devon Duvets, we know all about wool and how amazing it is! It's been at the heart of our business for over 11 years and we're proud that the wool we use for our duvets, pillows and toppers is 100% British wool, from our hard-working British farmers - and that each product is individually handcrafted by our brilliant seamstresses, here in Devon.
Wool is a wonderful and versatile fibre that has many uses, other than for the more common ones you will know about, such as bedding, carpets, furniture and clothes. We thought we'd share some of these with you – and there are some surprises along the way!
Mulch: Wool can be made into pads that have been designed to mulch your garden. The wool will help to supress weeds, retain moisture and regulate the temperature of the soil. As wool is 100% natural, it will biodegrade harmlessly over time, releasing valuable nutrients into the soil. You can also protect more delicate trees and larger plants in winter by wrapping wool around their trunks or stems.
Slug Pellets: Rather than using the more traditional type of slug pellets, that have chemicals harmful for birds, try slug pellets made from wool. The wool is compacted into small pellets that deter slugs and snails by absorbing the mucus they produce. They will need replacing regularly to ensure they don't get too wet but wool pellets are safer for the wildlife in your garden and will break down naturally over time.
Garden String: An essential for green fingered enthusiasts! Usually made from jute, it can also be made from wool. Our favourite garden string is from Twool who, like us, are based in Devon and use 100% British wool to make their products.
Hugelkultur: Invented in the late 1970s in Germany, this method of gardening involves creating growing areas from the ground up. Start with all kinds of 'waste' material, such as logs, branches, food scraps (vegetable matter), manure and grass clipping, then pile the soil on top. You can also use wool to the bottom of the pile as it helps retain moisture and build fertility. This way of gardening creates a wonderful fertile raised garden mound for growing vegetables.
Acoustics: Wool is an excellent sound absorbing material. It can be used in large buildings with high ceilings, such as concert halls, and it enhances the sound by filling the air void and minimising echoing. The most often used are wool ceiling liners or 'sound clouds' - shaped fluffy wool pads for walls and ceilings. Wool linings can also be used in loudspeaker cabinets for your sound system and is more environmentally friendly than the synthetic foam more commonly used.
Firefighting: Wool has a high flame retardancy rating, which is why it has been used for fire tunics as far back as the early 20th century. Even today, with all the modern materials available, wool is incorporated into the fabric for PPE for fire fighters for this reason, as well as for its breathability, comfort and anti-microbial properties.
Building Insulation: Wool is a natural thermal and acoustic buildings insulator, for roofs, walls and floors, in order to make older buildings more heat efficient but is being incorporated more and more in modern eco construction projects. Wool insulation is natural and sustainable and can also act as a moisture buffer by absorbing and releasing excess moisture – and it can also absorb indoor pollutants. There are several companies in the UK that make sheep's wool insulation, including Thermafleece who specialise in making a combination of British wool with recycled fibres, to create high quality insulation.
Wool Bricks: On-going research, as part of a collaboration between Strathclyde University (Glasgow) and the University of Seville (Spain), has discovered that eco-friendly bricks can be made by adding wool fibres to the regular clay material and then combining this with a natural polymer extracted from the cell walls of seaweed. The bricks can be dried naturally, without firing in a kiln. This saves energy and cuts down on the carbon emissions released by industrial kilns. These bricks are less prone to cracking and have been shown to be stronger than unfired earth bricks.
Cleaning Up Marine Oil Spills: Wool is very absorbent, so is part of on-going research around the world to be used as a very effective way to clear up marine oil spills. Wool can absorb up to 10 times its weight in oil and once squeezed out can be reused for mopping up more oil. Even a low-quality grade of wool can be used for this purpose. Its absorbency means that you can also use it around the home for clearing up mess and domestic spills.
Food and Pharmacology Packaging: Wool can be used to create eco-friendly packaging for the transport of fresh food and perishable, sensitive pharmacology products. Wool fibres are hygroscopic, which means they can absorb and release moisture, providing a natural thermostat to maintain stable temperatures. This innovative type of packaging was created as the result of research by scientists at Bangor University in Wales.
So, with such a versatile material, it's no wonder that it makes such great bedding. Temperature regulating and breathable, it can help to keep you cool when it's hot – and warm when it's not! Wool is also naturally resistant to dust mites and the build-up of micro bacteria so will help with allergies and is more hygienic than many other types of bedding. It all adds up to a more restful night's sleep and that's important for health and wellbeing. If you'd like to know more, just get in touch with the team and we'll be happy to help.