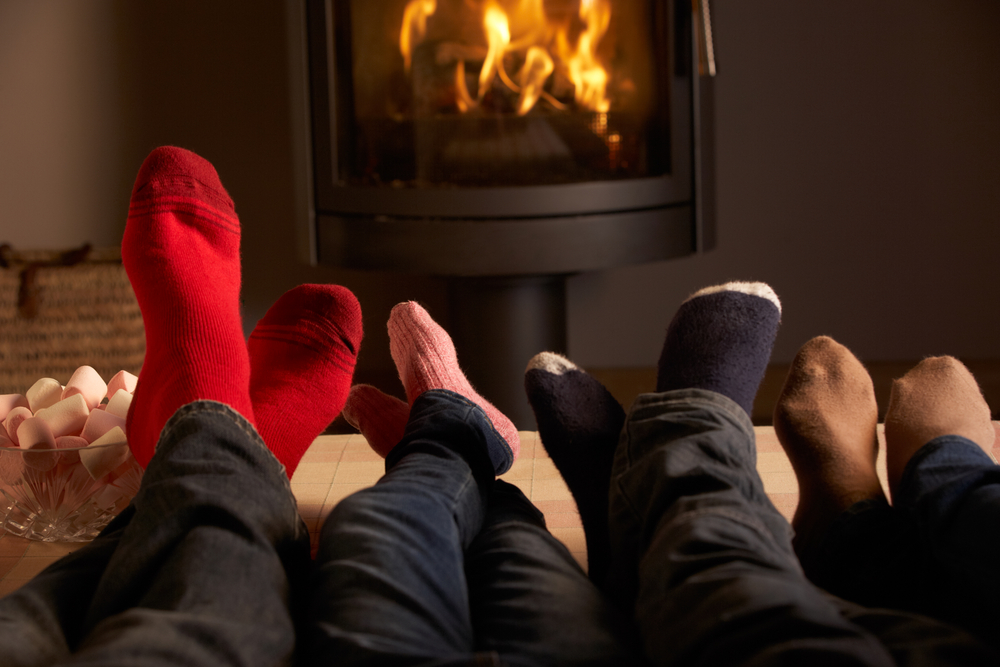 According to some weather pundits, we could be in for a particularly cold winter this year. Even if we aren't bombarded with snow and icy winds, there's something about the colder weather that makes us want to tuck in and snuggle up.
Of course, there are plenty of tasty treats to help keep us warm (hot chocolate with marshmallows, hearty soups with cheesy garlic bread - for example) but there are also practical things we can do to help us prepare our homes for winter too. You've probably got a list but here's a few suggestions from ours!
Staying snug indoors
The last thing we want is for our central heating to break down and so booking a boiler service ahead of the rush will keep things ticking over nicely. It's also worth checking that the batteries in your carbon monoxide alarm are still good to go. We probably all have a drawer full of radiator keys for bleeding the radiators – well, now's the time we can actually use them! 
Your local chimney sweep will be able to get the best out of your open fire or log burner, by giving it a good clean through. Getting a good supply of logs stacked up good and early means not having to wait too long for a supply before you can start toasting those marshmallows! 
Some of us were raised in the school of 'put another jumper on', so unpack those woollie pullies and put your summer clothes to one side. If there's anything you haven't worn for a winter or two, your local charity shop or a clothing recycling bank will find good use for it.
As we're a bedding company, we're obviously very focused on getting our heavier tog duvets out at home. If you're looking to get a new one, check out our options here.  Wool is a great option as it's naturally breathable and therefore temperature regulating. Ours are handcrafted in our Devon workshops and made from certified 100% British wool. Also check out our 100% vegan Botanic rangeor our luxurious silk duvets.
Pipe down
A burst pipe is probably one major thing that we all dread in winter. Nobody wants the expense of forking out for an emergency plumber. Luckily most DIY centres sell pipe insulation and water tank lagging, so that's easy to sort if it needs to be done. Any exposed pipes in attic spaces are particularly vulnerable as is an outside tap.
Love your Car 
Most garages will offer a 'Winter check' if you'd like a quick service.  If you're happy to check the basics yourself, then keep topped up with anti-freeze and have a bottle of ready mixed screenwash in your boot. The most common cause for a non-starting car in the colder months is a dud battery, so well worth checking that your battery has plenty of life in it.  
We've found it useful to keep some emergency items in the boot for driving in the dark or in case we get caught in snow, such as a blanket, a torch (check the batteries!), wellies and a tub of rock salt. In really cold weather, we've been known to keep a shovel in the boot too!
For further tips, check out the AA website for winter driving advice.
Gardens and gutters…bulbs and birds
One positive thought is that now is the best time for preparing your garden for Spring (what a lovely thought!), including the final lawn cut for the year, planting daffs, tulips and snowdrop bulbs, and it's also much easier to get to those pesky weeds!  
It's time to top up the bird feeders and hang them up as high as possible, away from cats or other predators and keep any bird baths filled up with fresh water. For more tips on helping wild birds in the winter, visit the RSPB website.
Right now, it seems to be a never-ending task but it's worth keeping guttering clear of dead leaves to avoid leaks. 
Double checking that your TV aerial or satellite dish is firmly fixed will avoid the disappointment of losing your signal during that all-important episode of Corrie or the Gavin & Stacey Christmas Special!
Staying healthy
The colder weather can wreak havoc with our skin – so slather on that moisturiser and stock up with a good lip salve to avoid sore, chapped lips.
There's a lot of talk about flu jabs at this time of year – your doctor will be able to give you the low down. The elderly are particularly vulnerable and it's free for anyone over 65, as well as those with certain medical conditions. You can check out more details on the NHS website.
Back to our favourite topic – food!  Stock up your freezer with hearty stews and soups and keep pasta and pulses (such as lentils) in your store cupboard, so that you have something handy and warming for those cold nights. Winter friendly, warming spices include cumin and cinnamon and you'll find plenty of tempting recipe ideas online.
Invest in a slow cooker – if you don't already have one of these, they are terrific and convenient. Get your supper on before you head off to work and it will be ready and waiting when you get home.
Last but not least, stay safe out on the roads and wrap up warm!