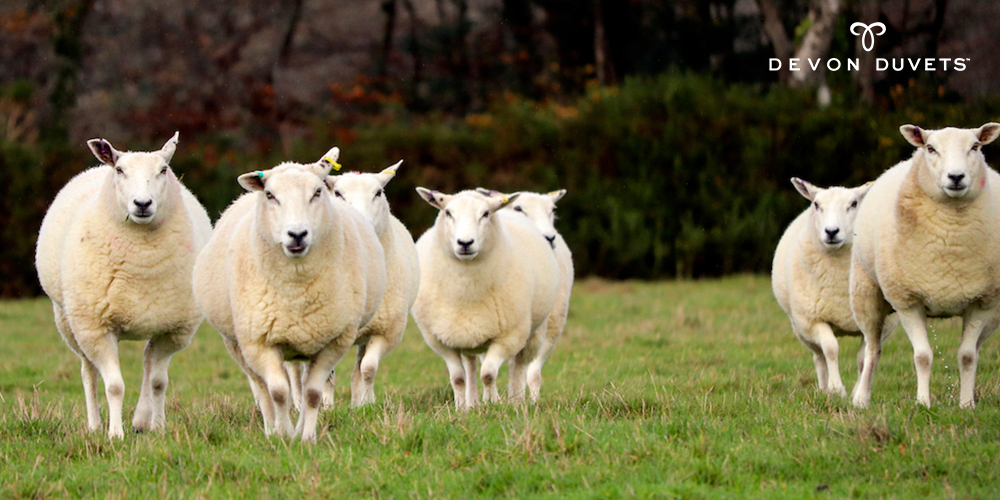 Many of us want to know where our products are made, and what materials are used, so we've always been proud that our award-wining products are made right here, in Devon - and only ever using 100% natural products that are responsibly sourced and sustainable. It's also especially important to us that, through our commitment to use only British wool, we are helping to support British farmers.
The wool inside our duvets, pillows and toppers is certified as traceable, high quality 100% British wool, by the British Wool organisation (formerly the British Wool Marketing Board). This is currently the only independent organisation that can certify wool as being 100% British and therefore the only way you can be sure that you are buying a 100% British wool product.
Working in collaboration with the British Wool organisation, we are able to take this process one step further. A new scheme means that we can fully trace our certified 100% British wool from farm gate to your duvet, topper or pillow, via a specific group of individual farms. Our selected group of farms are based mainly in Devon and across the Southwest of the UK. This means that:
We can continue to ensure that the wool inside your Devon Duvets wool-filled bedding is the very best, high quality certified wool available, from a group of selected British farmers with the highest animal welfare standards.
We can trace this wool from our chosen British farms through to our individually handcrafted products.
Our farmers receive a fair price for their wool, over and above the market value, in return for supplying us with fully traceable wool. This helps to give extra support to the British farming industry, to keep producing and supplying our high quality wool.
Whilst we've always been able to use a premium 100% British wool mark, our wool-filled bedding products will now also carry a special new British Wool mark, stating the wool is certified as authentic fully traceable 100% British wool.This will give you even more confidence that you are getting exactly that when you buy one of our 100% British wool-filled bedding products.
Why Choose Devon Duvets?
When you tuck yourself up with a Devon Duvets wool duvet, pillow or mattress topper, you can be confident that it is 100% natural, 100% sustainable and 100% eco-responsible, making it a great choice for you and the environment. Wool also has a number of health benefits that will help you achieve a more restful night's sleep.
We are committed to ethical, responsible sourcing for our wool filled bedding - and this is at the heart of our business.
Our wool comes from live sheep, shorn only in late Spring and Summer, when the sheep need to be relieved of their heavy Winter fleeces.
Our wool is cleaned (known as 'scouring') in British mills without the use of bleach or chemicals – making our products more environmentally-friendly and lowering the carbon footprint.
Our wool is needled into layers, to our unique and exacting specifications, to create 'loft'. Wool is naturally breathable, but this special process makes our wool even more efficient at temperature regulation. The wool works with your body temperature and the ambient temperature of your bedroom, helping to keep you cool when it's hot, and warm when it's not. Its temperature regulating properties can assist in easing certain skin conditions that are aggravated by becoming too hot at night and can also help with menopausal 'night sweats'.
Wool is dust mite resistant, so hypoallergenic and perfect for those who suffer from allergies such as asthma.
Wool is resistant to the build-up of micro bacteria, making it a more hygienic filling.
Wool is naturally fire retardant.
As our wool-filled products are 100% natural, when the time comes to change yours just take it to your local recycling centre, where it will biodegrade harmlessly without sitting in landfill for decades to come.
Devon Duvets and British Wool
Devon Duvets has worked closely with the British Wool organisation for over 10 years. Owned by approximately 40,000 British sheep farmers, British Wool collects, grades, markets and sells British wool on behalf of these farmers and certifies that the wool is 100% British wool. It is also the approved provider for sheep shearing and wool handling training in the UK and liaises with DEFRA on animal welfare.
If you'd like to know more about our wool filled bedding, then do get in touch or give us a call on 01752 345399 and we'll be happy to help.