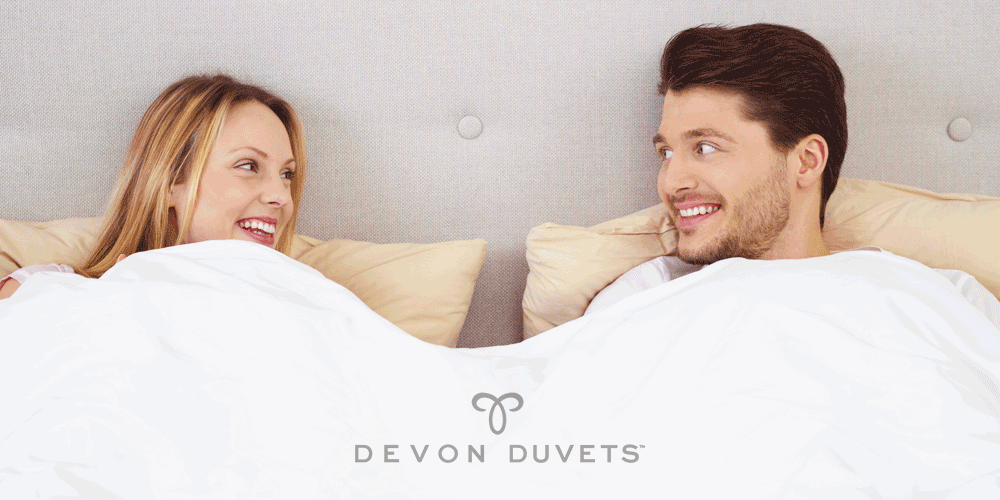 Our guide to choosing the perfect wool duvet tog ratings:
A tog rating is a measure of thermal insulation. Originally created for the clothing market, all duvets come with their own scale of warmth level called a 'tog rating'. This specifies warmth, not thickness.
With duvets, the higher the duvet tog rating, the warmer the duvet. Conversely, the lower the tog rating, the cooler the duvet. Most duvets have a fixed tog rating which reflects their insulation factor, and means that they are generally not able to temperature regulate, i.e. they are unable release heat if you need to cool down.

Duvets made from synthetic fibres are not breathable and therefore unable to temperature regulate and so can trap the heat in your bedding. Duvets made from feather or feather and down are excellent insulators and can release some heat but the most efficient filling for temperature regulation is wool. Wool is also dust mite resistant, which makes it more hygienic than other fillings.

So how do togs work in a wool duvet?
As mentioned above, wool is naturally temperature regulating so this means it does not have a fixed tog rating but has a fluctuating tog equivalency instead. Wool works with your body temperature and the ambient temperature of your bedroom, so retains heat if you need to be warm but can also release heat if you need to cool down.

How do I know what tog will work best for me?
This is an important question and one that we often get asked by customers when they call the team for guidance. So we want to provide the best duvet tog guide we can for you here before you purchase a new duvet for your bed.
Firstly, you need to take into account the type of duvet you currently have. If it is a synthetic (hollowfibre or polyester) duvet in a polycotton casing it is not thermoregulating so, for example a synthetic duvet with a tog factor around 12 would probably be too hot in the summer months as the filling traps the hot air.
Similarly, a synthetic duvet with a tog value of around 9 would be too cold in the winter as it would not trap enough hot air. The same would apply to a duvet made from feather and down, whilst having some element of temperature regulation, it will not vary much outside its fixed tog ratings.

What tog ratings do our British wool duvets have?
Our medium weight wool duvets have a fluctuating tog equivalency of 8 – 14 togs, so will retain heat if you need it in the colder months in bed but can also release heat and behave like a lower tog duvet, down to around 8 togs, in the warmer months. If you live in a cooler house, or are a naturally cold sleeper, then this duvet may well be suitable for you throughout the year. A lot of the choices you make are of course down to personal preference.
All of our bedding work on this principle. So, if you are naturally a warm sleeper or have a well insulted bedroom in a flat or more modern property, then you may find that our lightweight wool duvet, which has a tog equivalency of 4 – 7 togs will be sufficient all year. It will trap heat up to approximately 7 togs but will also release heat if you need to cool down, by behaving like a 4 tog duvet.

What kind of wool do we use in our duvets?
The wool we use in all our duvets is authentic, fully traceable 100% British wool, certified by the British Wool organisation, and from farmers we know have the highest standards of animal husbandry.
Our wool is washed and needled in British mills. No chemicals are used, so the wool fibres are not artificially changed and therefore retain their natural temperature regulating properties.
Is the type of casing used important for a duvet?
The casing of a duvet will also affect the way the filling works. For example, casings made from polycotton are not breathable in the same way that 100% cotton casings are. Our wool duvet casings are made from a high quality, 260 thread count 100% cotton, which is breathable and so works with the wool to ensure it can efficiently temperature regulate. Our range of cotton is certified by Better Cotton, which supports and promotes better environmentally friendly and socio-economic cotton farming practices.
If you have any questions about togs or which of our wool duvets might work best for your needs, then please get in touch and team will be happy to help before you purchase your new bedding.