The natural choice for your little ones...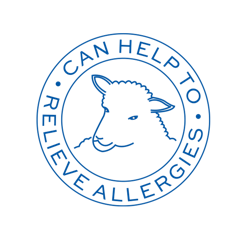 Comfort and Well-Being for Your Child's Sleep
As a parent, you want the best for your child, and choosing the right bedding is crucial for their comfort and well-being. Our Little Lana natural wool duvets, the best duvets for toddlers, and single duvet and pillow options are made with certified 100% British wool, perfect for children's bed linen.
Our wool is naturally dust mite-resistant and hypoallergenic, making it ideal for children with allergies or asthma. And, with Little Lana duvets, you can be confident that your child will sleep under a natural product that hasn't been prepared with harmful chemicals or substances.
We use only 100% British wool from responsible, traceable sources, awarded British Wool Certification by British Wool, ensuring the best quality wool for your child's bedding. Our wool is cleaned without bleach or chemicals and encased in a soft, 100% natural 260 thread count cotton for ultimate comfort.
Each Little Lana duvet is handcrafted by our expert seamstresses in our Devon workshops, ensuring the highest quality and care. They are easy to care for and can be refreshed by airing or machine washed on a wool setting with a wool care product.
For children who require extra support while sleeping, our best pillow for a child with asthma is the perfect solution. Choose from our range of children's pillows, cot bed duvets, and cot bed options, all made with the same care and attention to detail as our other bedding products. Give your child the best possible night's sleep with Little Lana natural wool duvets and pillows.

| Features | Benefits |
| --- | --- |
| 100% natural products so breathable and temperature regulating* | Keeps you cool in Summer, warm in Winter, helping you get a great night's sleep*. |
| No bleach or chemicals used when wool is cleaned; no glues, artificial fibers or bonding agents used. | Nothing except what nature intended next to your little one's skin and also better for the environment. |
| Wool is needled into one sheet and carefully stitched into casing. | Does not require shaking and does not clump, providing lovely, light drape. |
| Resists dust mites. | Helps to relieve the symptoms of allergies and asthma. |
| Responsible and sustainable. Wool is shorn from live sheep in the traditional way; cotton duvets and casings for wool and cotton duvets made from thread under the Better Cotton Initiative | Eco-friendly and naturally biodegradable so won't clog up landfill when it's time to change your duvet. |
| Biodegradable packaging | Environmentally-friendly. |
*Parental supervision is always required for young children, so we advise you to monitor your child's temperature to ensure they do not become overheated.