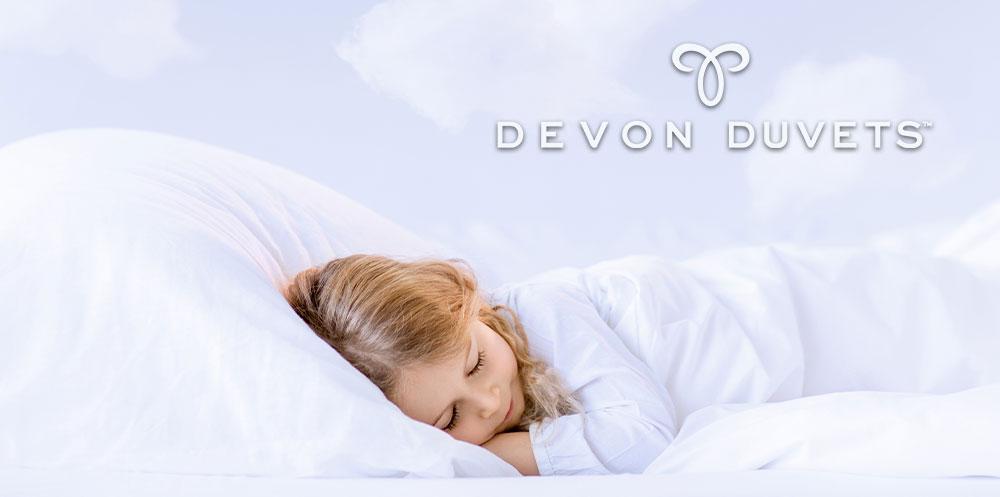 When your little one is ready for their first pillow, you'll find a bewildering amount to choose from out there, but it is always best to buy a pillow that is going to help them get a peaceful night's sleep. That means finding a pillow that's as natural as possible – so is made from natural fibres to ensure it is breathable, and that no harmful chemicals have been used during the manufacturing process.
Why do we make such great wool pillows?
Wool is a fantastic natural and sustainable fibre that is both cosy and comforting and, at Devon Duvets, we've been using wool to make our Little Lana children's pillows for over 14 years. Each pillow is individually handcrafted by our team of professional seamstresses, in our Devon workshops, and we've gone the extra mile to ensure we only ever use the highest quality, most responsibly sourced materials. For example, we only ever use fully traceable 100% British wool from live sheep, owned by farmers who have the highest standards of animal husbandry. Happy sheep means great quality wool! Our pillow casings are made with a 100% cotton fabric, woven to our strict specifications from cotton fibres that are certified by Better Cotton – a global initiative that supports better environmentally-friendly cotton farming practises.
What are the benefits of a Devon Duvets wool pillow?
Toddlers have sensitive skin and so the right kind of pillow is especially important. There are several benefits from choosing a wool pillow and we've listed the most important ones below:
Natural and chemical free
We want our wool to retain as many of its natural properties as possible and that's why we don't use chemicals when washing, needling, and fluffing our wool. That means only what nature intended is next to your little one's skin whilst they are sleeping. Better for them and for the environment. Our wool is so natural that when it comes to replacing the pillow in a few years' time, you can use the wool as compost and it will biodegrade naturally, releasing nutrients into the soil.
A more restful night's sleep
Wool has been proved to help with achieving a deeper REM sleep cycle and because wool has temperature regulating properties, it is comfy all year round.
Hypoallergenic and hygienic
Wool is naturally resistant to dust mites and to the build-up of micro bacteria. This is because wool can wick away and release moisture, preventing the damp and humid conditions that dust mites and bacteria love. This makes our wool pillows hypoallergenic as well as being more hygienic than most other pillows. A wool pillow is the ideal pillow for your little one if they have been experiencing restless sleep due to asthma triggered by dust mites. A wool pillow can also help alleviate symptoms of eczema; its temperature regulating properties help to keep the core body temperature balanced, minimising the overheating that can trigger eczema flare ups. Regular airing helps to keep the pillow nice and fresh.
Naturally fire resistant
Wool's natural resistance to fire and combustion makes it a safe pillow filling. It also means the wool does not need to be treated with fire retardant chemicals. Our wool products have passed the essential fire-retardant tests and so our wool is not treated.
Sustainable
Wool is sustainable because sheep need shearing in the warmer months to relieve them from their heavy fleeces. The sheep will regrow their fleeces in time for winter. We use wool from spring and summer shearings to ensure the sheep won't feel cold during the chillier months. We're conscious of keeping our carbon footprint as low as we can, so we gather our wool from farmers in Devon and the South West, and our cotton fabric comes from Europe. We craft our products in our energy-efficient building to keep our impact at a minimum.
Two styles of wool pillow for your toddler
We craft two styles of pillow in our Little Lana children's range.
Our Little Lana Junior Wool Pillow: This is made with hand fluffed, certified fully traceable 100% British wool, in a 100% cotton casing, made with cotton fibres certified by Better Cotton. The casing has a zip so that some of the wool can be removed to adjust the height and softness of the pillow as required.
Our Little Lana 2-Fold Wool Pillow: This is made in 2 joined sections, that fold up on each other. Each pillow is filled with layers of certified fully traceable 100% British wool, in a 100% cotton casing, made with cotton fibres certified by Better Cotton.
Please ensure you refer to our care instructions on each product page.
If you would like to know more about our Little Lana range, then please contact the Devon Duvets team on 01752 345399 or via email.
*Pillows are not recommended for children under the age of two.