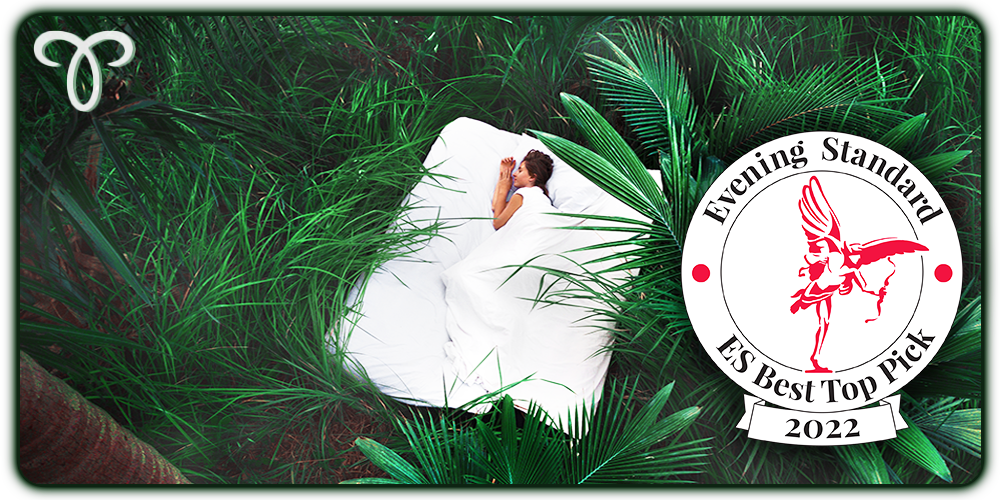 OUR PLANT-BASED BOTANIC DUVETS WIN THEIR THIRD AWARD
Hot on the heels of our third award for our lightweight British wool duvets, the team at the Evening Standard have chosen our Ultralight Botanic duvet as ES Best Top Pick and their overall favourite in their Best Summer Duvet awards, for the third time.
https://www.standard.co.uk/shopping/esbest/home-garden/home-accessories/best-summer-duvets-a3881196.html
Having previously been chosen in 2019 and 2021, this year the ES team said that the duvet was their frontrunner as it gives the best summer night's sleep yet. They loved that it was made with natural and sustainable plant-based materials from ethical sources and that it was easy to care for.

Our Botanic duvet range was launched in 2019 as an option for customers who wanted a wool-alternative product but did not want to go down the non-sustainable synthetic duvet route. Our Botanic duvets are soft and silky, and made with 100% plant-based fibres containing TENCELäLyocell, from certified sustainable wood sources, and processed through an Eco award-winning process. These fibres are used for the filling and the casing for the duvets, so we are literally turning trees into duvets in the most sustainable and environmentally way possible! What's more, the DNA of the fibres are kept intact through the process and so are fully traceable, unlike Bamboo fibres.


Naturally moisture wicking and temperature regulating, to help you keep cool during those warm Summer nights, our Botanic duvets are the only bedding of their type that's approved by the Vegan Society. They are also naturally hypoallergenic – another reason why allergy sufferers no longer need to opt for a synthetic hollowfibre duvet.
As with all our 100% natural products, each Botanic duvet is individually handcrafted by our talented seamstresses, here in our Devon workshops on the edge of Dartmoor.

If you'd like to know more about the Devon Duvets triple award-wining Botanic duvets, then please get in touch and team will be happy to help. If you are interested in our award-winning traceable British wool duvets, then you can find out more here.