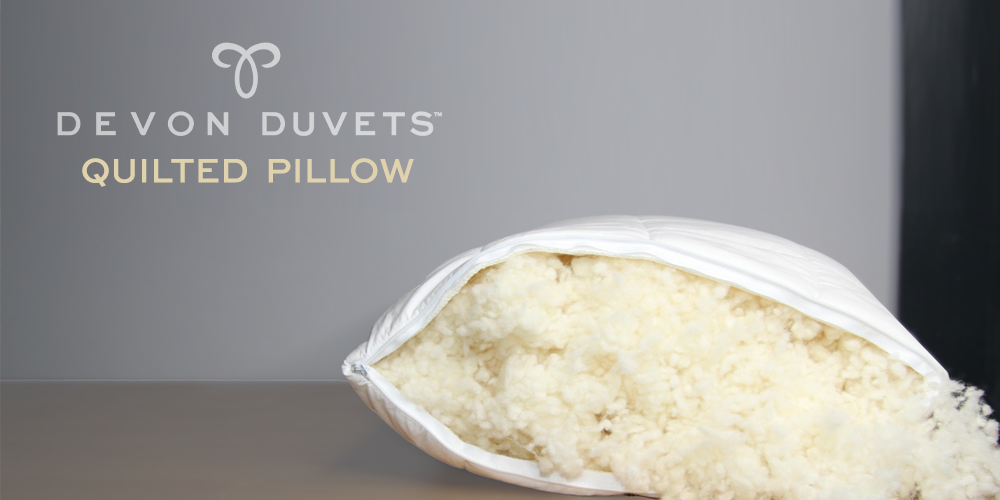 We've been making 100% British wool filled pillows for 12 years and they're one of our most popular products. It was only natural, therefore, that we wanted to find a way to make a very special new pillow that would be even more luxurious for those looking for a pillow with even more British wool.
So, we came up with our quilted adjustable wool pillow, which uses authentic traceable 100% British wool inside the pillow plus an additional layer of wool quilted into the 100% cotton casing. In the same way that our Original Wool Pillow is adjustable, there's a zip in the quilted casing so you can adjust the amount of the wool filling inside the pillow to make it the perfect height for your needs.
As with all our individually handcrafted products, each quilted adjustable wool pillow is made to order, here in Devon by our talented seamstresses. Wool makes a fantastic filling for bedding because it is temperature regulating and breathable and is also naturally resistant to dust mites and the build-up of micro bacteria. It's natural and sustainable too - and that makes it better for you and the planet.
The key features of this fabulous pillow are:
All the wool used is authentic traceable !00% British wool: 800 grams of twizzled wool inside the pillow and 300gsm* layered wool in the quilted casing.
Quilted cotton casing is made from 100% cotton certified by Better Cotton**
Wool is cleaned and processed in British mills and is chemical-free.
Extra cushioning provided from the wool in the quilted outer casing.
Pillow is adjustable.
Hypoallergenic and hygienic.
Size is 75cm x 50cm (standard UK size).

If you have any specific questions about this product, or any of our other British wool filled bedding products, then please do get in touch and the team will be happy to help.
*Grams per square metre
** The Better Cotton initiative promotes better environmental and socio-economic cotton farming practices around the world.