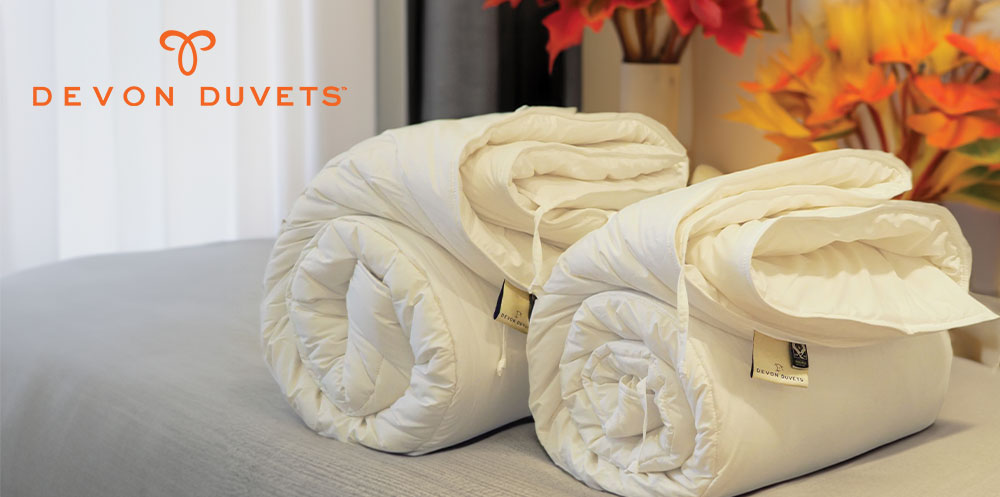 We designed and created the UK's very first 100% British made, 100% British wool duvet 15 years ago,and we're proud to say that nobody makes a wool duvet quite like us! Here's what makes ours unique and special:
We individually handcraft our duvets in the UK - from start to finish
Unlike other duvets, ours are not made on large automated 'roller' machines that feed the fabric and wool through in long strips, and use an automated cutter to cut to size, before the duvets are finished with binding. Neither are our duvets partially made overseas and then 'finished' in the UK. Our duvets are a luxurious artisan product, with every step done in our own workshops on the edge of Dartmoor. We create a 100% Beautifully British wool duvet.
Our crafting process is unique
Our crafting process starts with the bottom layer of our 100% cotton casing being hand cut to the size of the duvet being made and laid out. The wool filling is then also cut by hand to the correct size and placed on top, and then the top fabric layer is cut and laid on top of the wool. We use traditional tailoring scissors to do this. The duvet is then stitched, overlocked, and bound by our expert seamstresses, to the specific design that we created all those years ago. The end result? A beautiful duvet, with a fabulous, unmatched drape that wraps you in comfort from head to toe.
We only ever use authentic traceable 100% British Wool
Our wool has always been gathered from farmers in Devon and the South West, and these farmers are selected for their exceptionally high standards of animal husbandry and the quality of their wool. We only accept wool from live sheep, who have been shorn in the Spring or Summer when they need to lose their heavy winter fleeces. Also, because our wool is part of the British Wool traceability programme this ensures our farmers receive a higher than market value for their fleeces.
We do not use any chemicals in our wool
Our wool is double scoured and then needled in British mills to ensure that we can keep our carbon footprint as low as possible. As we only accept naturally white sheep's wool, we do not need to use bleach to whiten the wool and we do not use any chemicals to wash our wool. In a nutshell – we want to keep our wool as natural as nature intended and with its natural properties intact. This is better for you, your sleep and for the environment.
Our duvet casings are made with fabric woven from BCI cotton
BCI cotton is certified by Better Cotton, a global initiative that supports and promotes better socio-economic cotton farming practices and ensures that the cotton grown by those farmers has less environmental impact on the planet. Our 260 thread count white 100% cotton fabric is woven to our very high specifications and we use eco-dyes, rather than bleach.
We are ethically audited
Responsible sourcing has always been at the heart of Devon Duvets, and so our ethical auditing is carried out by SEDEX, which is trusted by over 74,000 businesses to help manage environmental, social and governance risks. Part of this was a SMETA audit - the world's most widely used audit of working conditions and environmental performance – not only of our business but also that of our trusted supply chain. You can read more about our ethical auditing process here.
If you have any questions about choosing the right duvet for your needs, then please do get in touch with the team, who will be happy to help.