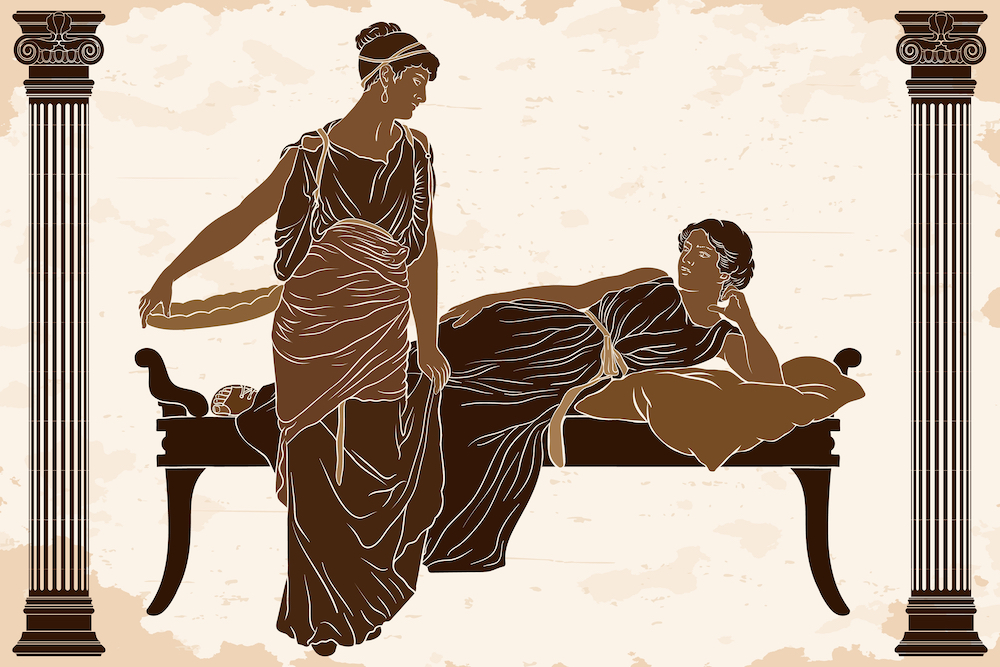 Duvets have been around a lot longer than most of us realise. This is probably because it took a while for them to become popular in the UK and they have been through various transformations throughout their history.
Some archaeological digs have suggested that an early form of duvet was used in China, as far back as 3,000BCE. In Ancient Rome, patrician Romans used both blankets and quilts on their beds (lecti cubicidates) but the first documented use of a duvet dates back to the Viking era. Many of the largest and most richly equipped Viking burial mounds discovered contained beds with several types of bird feathers and down from pillows and duvets. This has included down from the Eider duck and feathers from the Eurasian Eagle Owl, the largest owl in northern Europe. The luxury of owning a pillow and duvet was reserved for the wealthiest in Norse society.
In the mid 18th century, Thomas Nugent, an Englishman on a tour of Europe, passed through Germany and remarked that there was one very peculiar thing about the people there: "They do not cover themselves with bed-clothes but lay one feather bed over and another under. This is comfortable enough in winter, but how can they bear their feather-beds over them in summer, as is generally practised, I cannot conceive." Of course, if they had used wool then this wouldn't have been so surprising perhaps… but more on that later!
By the early to mid 1800s, eiderdowns were popular with affluent Victorians and continued to be so until well into the 20th century. These tend to be heavier than duvets and balance on top of the bed, without any overhang. They were used to add warmth to sheets and blankets in the coldest months, and older generations in the UK today will remember these still being popular in their childhood. In Hans Christian Andersen's fairy story 'The Princess and the Pea' (published in 1835), the princess has to lie on 10 eiderdown quilts to avoid being bruised by the pea.
Harrods, the famous department store in Knightsbridge (London), was the first to stock duvets in the 1950s. Having gained a reputation for stocking items that were not available anywhere else, it would only have been a small handful of the wealthiest individuals who would have been able to purchase them. However, by the 1960s, innovative designer, Sir Terrance Conran began selling them in Habitat, his popular homeware store. He sold them as the '10 second bed', emphasising their convenience, and so by the 1970s they were more widely used, although called the Continental Quilt. In the USA they are sometimes called 'comforters' and in Australia they are known as 'Doona'. Duvet use varies from country to country, we Brits tend to share our duvets with our partners but in Scandinavia and other European countries it is popular for each person to use their own duvet.
The actual word 'duvet' comes from the French word for 'down', but duvets are now made with all kinds of fillings, including feather and/or down, silk, synthetic fibres, bamboo – and, of course, wool.
We mentioned wool earlier in our blog, when writing about the 18th century traveller who wondered how Europeans coped with a feather-bed (duvet) over them during the summer. Of course, at Devon Duvets, we know that had these been made with wool, the wonderful temperature regulating properties of the fibres wouldn't have just kept them warm in winter but would also have helped to keep them nice and cool during the warmer months. There would have been less of a problem with dust mites too, as wool is naturally resistant to the pesky critters! In fact, sleeping under (and on) wool has lots of benefits with regards to getting a better night's sleep. We call this 'wool wellbeing'.
Our beautiful, award-winning wool duvets have the added bonus that they are individually handcrafted by our brilliant seamstresses here in Devon, so we put a lot of love and care into making them. Wool is a wonderful fibre – sustainable and eco-friendly. We only ever use 100% British wool that's fully traceable and from farms that we know have the highest standards of animal husbandry. Our layers of soft, fluffy wool are stitched into a luxurious 260 thread count cotton. We don't use chemicals, bonding agents, glues or synthetic fibres and so when you are tucked up in one of our wool duvets, you are experiencing something as natural as nature intended - which is better for us and the planet too!
You can find out more about the wool we use in our wool filled duvets, pillows and toppers here. If you have any questions, then please do get in touch and our team will be happy to help.
Ref: www.ancient-origins.net; Wikipedia