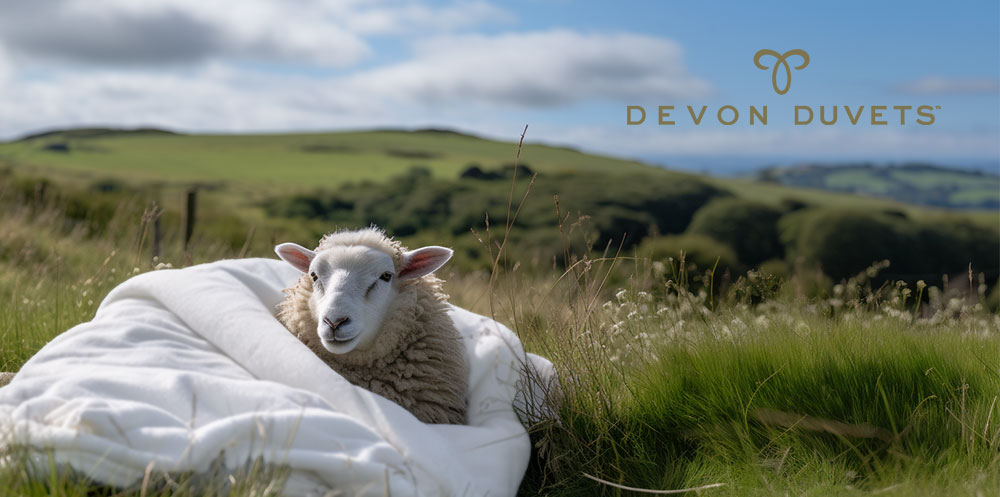 Many of our customers ask us what makes our duvets special. There are two reasons…firstly, we use high quality, traceable, natural 100% British wool and secondly, each one is individually handcrafted by our seamstresses here in our Devon workshops.
To understand why our wool filling is so wonderful requires a bit of a closer look at wool and the way it works, and we've explained in more detail below.
Wool is a natural and sustainable fibre
A sheep's fleece constantly grows in the same way that our hair does, so it's completely natural. The farmers who supply our wool shear their sheep in the late Spring or early Summer to get rid of their heavy winter fleeces. The wool regrows each year, in time for the colder months, and that makes it sustainable. Our wool only ever comes from live sheep, from British flocks across Devon and the southwest that are looked after with the highest standards of animal husbandry, and is certified as fully traceable by British Wool.
Wool is temperature regulating
If you look at natural wool fibres under a microscope, you will see that they have little hooks (a bit like a pinecone). This enables the wool fibres to lock together to trap and release heat as required and that makes it breathable and temperature regulating. By sleeping under a natural wool duvet, you will benefit from this clever structure, as the wool will react with your body and the ambient temperature in your bedroom to keep your core body temperature balanced through the night. This means it has a 'fluctuating' tog. We also needle our wool to our exacting specifications, to trap air, which creates loft and boosts its temperature regulating properties. All this adds up to a more restful night's sleep, whereby you are less likely to be constantly waking up feeling too hot or too cold.
Wool does not need chemical treatments
For wool to work in the most effective and efficient way as a temperature regulator, the wool fibres need to be kept as natural as possible. That means not altering the structure of the wool fibres through chemical treatments or polymer coatings during the cleaning ('scouring') process. The reason that we do not wash, treat or process our wool with chemicals is because these tend to smooth the fibres out, impacting on the wool's efficiency to temperature regulate. Also, when washed out of the wool, these treatments can end up in the environment and our commitment to sustainability means trying not to do anything that might cause harm to the eco system.
Wool is naturally resistant to dust mites and micro bacteria
This makes wool duvets ideal for those who suffer from allergies because of dust mites. We do not bond our wool onto anti-bacterial linings, because these linings are synthetic - and this rather defeats the purpose of choosing a natural product to snuggle into! Natural wool (i.e., wool that has not been treated with chemicals) is resistant to the build-up of micro bacteria, so linings are not necessary.
Wool is hygienic
Natural wool duvets are also more hygienic due to their resistance to dust mites and micro bacterial and can be kept fresh by regular airing, minimising the need for washing. We always recommend regular airing, but our duvets are machine washable on a 30 degrees wool cycle and using a detergent specifically created for wool. You can find out more about caring for your Devon Duvets wool duvet here.
Wool works best with cotton
As wool is a natural fibre, it's important that a wool duvet has a 100% natural casing so that the wool layers inside can do their temperature regulating work. Our wool duvets have a luxurious, 260 thread count 100% cotton casing, which we make in our workshops from cotton fabric that's been strictly woven to our specification. The cotton fibres used in the fabric are certified by Better Cotton, a global initiative that supports better environmental and socio-economic cotton farming practices.
A wool duvet can be recycled in an eco-friendly way
Although many of our customers have had one of our duvets for years, eventually the time will come to replace it. Rather than sitting in landfill for decades to come, our wool duvets are chemical free and so can be recycled in several ways that benefit, rather than harm, the environment. The wool filling can be composted, or used to line raised vegetable beds or trenches, where it will break down releasing nutrients into the soil. Some of the wool can be broken into small tufts and put in trees or bushes, where birds can find them and use it to line their nests. The cotton fabric can be cut up and used for arts and crafts or cleaning tasks.
If you need any further information about our wool filled bedding range, please get in touch with the team via email or by calling 01752 345399. We're here to help!