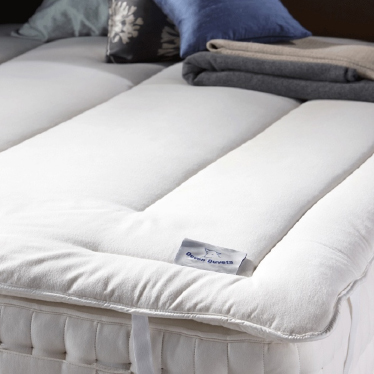 Mattress toppers are great for adding an extra layer of cosy comfort to your bed, providing a nice thick layer that will give you additional support and help you to achieve a better night's sleep. Additionally, toppers help to extend the life of your mattress as they reduce the pressure on your mattress springs and lessen the amount of general wear.
Most mattresses need to be turned regularly to prolong their life and ensure you are getting the best support for your body, but this isn't always achievable for everyone. If you are able to flip or turn a mattress topper this presents a much easier option, as well as helping the topper to keep its shape through even settlement of the materials.
Mattress toppers come in a variety of materials and fillings, and you'll want to ensure you choose the right one for your needs. Good Housekeeping recently revealed their 10 best mattress toppers, all of which were Tried and Tested by the highly respected Good Housekeeping Institute - and we're proud to say that not only was one of our mattress toppers in their top ten picks, but it was awarded Best Wool Mattress Topper!
Each one of our gorgeous wool toppers is individually handcrafted by our expert seamstresses at our Devon workshops. We only ever use certified 100% British wool, encased in 100% natural brushed cotton. They do not contain any bonding agents, glues or synthetic liners and our wool is not cleaned with any bleaches or chemicals. So, from top to toe – you'll be sleeping on something that's 100% natural!
Breathable and temperature regulating, your topper will keep you nice and snug when it's cold but will also radiate any heat away from your body during the warmer months, helping to keep you cool. Another great plus point is that our toppers are hypoallergenic too, as wool is resistant to dust mites and the built-up of micro bacteri
Read more »